Tuesday, October 23, 2012
December 2012 Readback
First Citation Service Center In The U.K.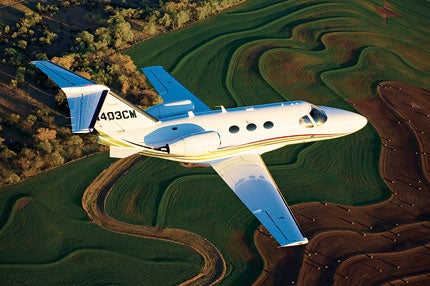 Cessna Aircraft announced the first Cessna-owned Citation Service Center in the U.K., located at Robin Hood Airport Doncaster Sheffield. The newly acquired 50,000-square-foot facility, rebranded as the Doncaster Citation Service Center, offers services from maintenance to modernization and paint. Previously known as Kinch Aviation Services, the business has operated for 15 years and has been a Cessna-authorized service facility for the past four years. The U.K. operation becomes the fourth Cessna-operated Citation Service Center in Europe, complementing facilities in Paris, France; Prague, Czech Republic and Valencia, Spain. Joe Hepburn, Cessna Senior Vice President, Customer Service, said: "Our European customers have been asking for modernization and paint capabilities. Our announcement this month of new Citation Service Centers in Spain and now the U.K. means we can now offer these services for the more than 1,070 Citations currently operating in the region. We are extremely excited about the benefits these facilities will deliver for the region's Citation fleet." Visit
www.cessna.com
.
500th Piper Meridian
Piper Aircraft recently rolled out the 500th Meridian to SouthEast Piper for delivery to the aircraft's new Florida-based owner. "The milestone delivery of the 500th Piper Meridian, since first delivery in the year 2000, emphasizes its enduring value proposition even during recent periods of economic uncertainty around the world," said Piper President and CEO Simon Caldecott. Visit
www.piper.com
.
CMC SmartDeck Selected by Cobalt
Cobalt Aircraft has selected CMC's SmartDeck avionics suite as standard on the new Co50 single-engine aircraft. David Loury, Cobalt CEO, explained: "The reason we chose SmartDeck can be summed up in one word: simplicity. The SmartDeck's design philosophy mirrors our design philosophy for the Co50—both are very simple to use." The all-composite Co50 is powered by a 350 hp, FADEC-equipped, TCM TSIOF-550-D2B piston engine. The aircraft is projected to deliver a maximum cruise speed of 250 knots at 25,000 feet and a fully loaded maximum range of 1,150 nm. The first prototype has undergone high-speed taxi testing and is entering the initial phases of its development flight test program. Visit www.cmcelectronics.ca and
www.esterline.com
.
Lightspeed Aviation Gets NAA Award
Lightspeed Aviation Founder Allan Schrader accepted the Champion of Public Benefit Flying award from the National Aeronautical Association and the Air Care Alliance at an awards ceremony in the Lyndon B. Johnson Room of the U.S. Senate. The Lightspeed Aviation Foundation was selected for this prestigious award "in recognition of Lightspeed's significant contribution by creating a support system enhancing groups involved in public flying." The National Aeronautical Association created the Public Benefit Flying Awards in 2003 to recognize significant contributions by people and organizations who voluntarily put their aviation skills, talents and equipment to use to benefit other people. Visit
www.lightspeedaviationfoundation.org
.
Turbine Silver Eagle 340 Certified
Myron "Ole" Olson, owner of O&N Aircraft Modifications, Factoryville, Pa., announced the company has received an FAA Supplemental Type Certificate for the installation of two Rolls-Royce 250-B17F/2 turbine engines in Cessna models 340 and 340A—a conversion known as the Silver Eagle 340. Olson shares credit with a group of highly experienced engineers and pilots who worked on the project, and Mr. Steve Hardie, the owner of the prototype aircraft and backer of the project. Located in Northeastern Pennsylvania, the company operates a full-service FAA repair station, and sells and installs all major avionics. Visit
www.onaircraft.com
.
New Location For Tailwheels Etc.
Tailwheels Etc. Flight School has left its long-time home at Gilbert Airfield in Winter Haven, Fla., and moved to new facilities at the Lakeland-Linder Airport in Lakeland, Fla. This move has given the school a much needed larger facility, with more office space for the staff and instructors, increased hangar capacity and even their own fuel tanks. There are plans to renovate the facilities to offer pilots more amenities. Visit
www.tailwheelsetc.com
.
Tecnam In New Zealand
New Zealand's Waikato Aero Club has purchased two Italian-manufactured Tecnam P2008 LSA. Giovanni Nustrini, Managing Director of Tecnam Australasia, said, "Waikato Aero Club is a perfect customer for the P2008. The club's mix of recreational and full-time flying will continue to demonstrate the versatility of the aircraft and its ease of use. The Club will benefit from the reduced operating costs associated with the Rotax engine and modern airframe." As well as recreational flight training and club trips, Waikato Aero Club runs a student loan-funded full-time flight school for budding professional pilots. Visit
www.flywaikato.co.nz
and
www.tecnamaircraft.com
.
Page 1 of 2