Friday, November 1, 2013
Fab Fall Mini Roundup
A new powerplant, LSA, air-conditioner, avionics and iPad apps for your Santa's list
Summer flying is done: Long live summer flying! But with the prospect of winter-building projects, exciting new avionics units to buy, panels to update, cockpits to make cooler, new software apps to download for the iPad and exciting new aviation developments to read up on over the next several months, we've found all the temptations we need to keep you plugged into the exciting world of flight.
Below, you'll find our latest offering of gadgets and goodies to carry you through your holiday season and sugar plum-fairy fantasies.
Although pilots in colder climes typically turn their thoughts toward winterizing their winged steeds, boot up the desktop computer simulators and hit the manuals to finally study all the nuances of that feature-rich EFIS display they haven't quite figured out yet, year-round sun-blessed fliers get to continue reveling in the joys of airborne "keepin' on."
Herewith, our latest offering of enticements to delight both camps: fair-weather fliers and snowcountry stick jockeys alike.
BENDIX-KING KLR 10 LIFT RESERVE INDICATOR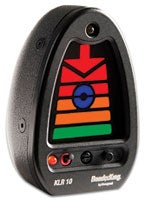 Angle-of-attack (AOA) warning devices are the new superheroes of safe flying. Making sure to never exceed critical AOA is a flight instruction staple—ask any CFI.

Nearly half of all takeoff and landing accidents come from inadvertent stalls—and 60% are fatal. The KLR 10 Lift Reserve Indicator provides a safety "lift reserve" awareness that always warns you of an approaching stall.

No matter what flight attitude, weight, altitude or speed regime you're in, a wing always stalls at the same critical AOA. Keep the wing from exceeding that event—and you'll never stall the airplane.

The device backs up Bendix/King's adage that, "The easiest stall to recover from is the one that never happens". The bright two-inch LED device is easy to see and also gives audio (through intercom) cues that speak loud and clear to how much lift remains in the wing.

The easy-install unit is intended for experimental aircraft. Mounted on the glare shield in your field of forward view, you instantaneously and constantly know where you're relative to the stall.

The LED display shows horizontal color bars that progress from green through yellow to red. At the same time, a woman's voice over the intercom announces stages of the approaching stall: "Check AOA." "Caution. Too slow." "Too slow! Too slow!"

Bendix/King's custom probe, mounted in clean airflow, measures changes of air pressure and is calibrated to each specific aircraft. Price: $1,600. Contact: www.bendixking.com.
Page 1 of 4