Friday, November 1, 2013
Fab Fall Mini Roundup
A new powerplant, LSA, air-conditioner, avionics and iPad apps for your Santa's list
WSI PILOTBRIEF OPTIMA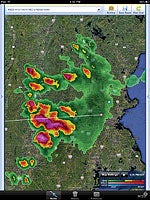 Here's a new iPad app from WSI (Weather Services International) that's part of the company's Pilotbrief Optima service. Pilotbrief for General Aviation is a subscription-based system that brings professional-grade weather info to the cockpit.

The new app, Pilotbrief Optima, brings vital preflight briefing information right to your Apple iPad. Now you can easily retrieve weather and NOTAM information for your next flight in a jiffy.

The user-friendly, easy-read app takes full advantage of the advanced iPad technology and includes cool features including graphical route layout and station information.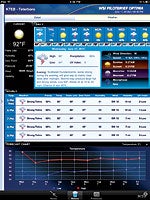 • high-definition weather layers
• radar, Satellite IR, VIL and EchoTop mosaics
• route-specific Weather and NOTAM briefings
• recently FAA-cleared flight routes
• graphic METARs
• tropical storm tracks
• textual aviation weather reports and forecast
• 10-day planning forecasts

New subscription accounts are activated within 24 hours of purchase. The app is a free download at Apple's App Store. Contact: www.wsi.com.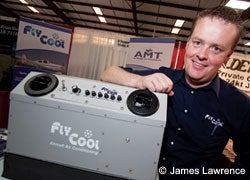 FLYCOOL
Hot cockpits are nobody's idea of fun flying. Flight safety is also compromised when you're sweaty and miserable. Air Management Technology aims to change all that with its all-electric, lightweight (22 pounds) air-conditioning system aimed at the LSA and experimental aircraft markets.
Several light-sports already incorporate the brushless motor-powered unit, including Flight Design's CTLS, the CorbiAir Alto 100 and Czech Sport Aircraft's SportCruiser. Major LSA maker Tecnam offers the FlyCool for its entire line of LSA.
The compact 5,500 BTU/hour capacity unit operates much like an automobile air conditioner. Each FlyCool installation is customized to the specific aircraft it's mounted in.
The hermetically sealed compressor unit is typically mounted in the baggage compartment. A hermetically sealed, brushless DC motor/compressor drives the innards for long life and no radio interference with flight instruments.
FlyCool is powered by an additional engine alternator, rather than tapping into existing engine power with a belt drive. That keeps maximum engine power available for takeoffs and climbs.
Primary components (compressor, condensor and evaporator) are separable and can be installed away from the hot firewall-forward environment. The system also allows cooling of the cockpit before engine start, providing a 20ºF cabin temp drop in 10 minutes.
After all, why should we finish preflight, only to climb into a blistering torture chamber? Price: $12,000-15,000 depending on aircraft and complexity of installation. Contact:
www.amt-aero.com
.
Page 3 of 4