Friday, February 1, 2008
February 2008 Readback
Build A Plane Auction
The nonprofit organization Build A Plane, which helps instructors teach science, technology, engineering and math by building airplanes, has launched an online eBay auction as an ongoing fund-raising effort. All proceeds go directly to support the organization's charitable aviation education efforts. "Build A Plane has more than 70 projects in schools across the United States, where kids are learning by building real airplanes," said Build A Plane President Lyn Freeman. "The proceeds from this unique fund-raiser will help us continue to help kids." Place a bid at
www.buildaplane.org
.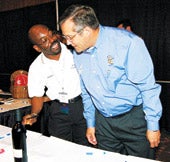 AEA Scholarships
The Aircraft Electronics Association and Texas State Technical College are offering 10 new scholarships through the AEA Educational Foundation, bringing the total number of scholarships to nearly 40 for the 2008–2009 academic year. These are valued at more than $100,000 and are intended for students pursuing careers in avionics or aircraft-maintenance industries. Scholarships will be awarded in late April at the 51st annual AEA International Convention & Trade Show in Washington, D.C., during which a silent auction will take place. At last year's convention in Reno, Nev., the auction raised $35,000 for the Foundation. Applications are due by February 15; apply at
www.aea.net/scholarship
.
Flying On Renewable Biodiesel Fuel
On October 2, 2007, Green Flight International completed the world's first jet flight powered by 100% biofuel. Pilots Carol Sugars and Douglas Rodante landed in Reno, Nev., in an L-29, rated to fly on a variety of fuels, making it ideal for testing biodiesel in jet engines. The flight was a precursor to Green Flight's around-the-world trip, scheduled for this year. Rodante started Green Flight in April 2006 as a platform for future development in the use of environmentally friendly fuels. Said Rodante, "By implementing even a small amount of biodegradable fuel into our transportation system, we can significantly reduce the CO2 and NOx that contribute to global warming." Visit
www.greenflightinternational.com
.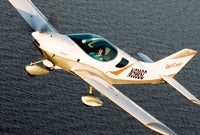 SportCruiser Deliveries
Deliveries of the LSA SportCruiser have been on a roll. In October, John Davis of Sarasota, Fla., took delivery of the 40th SportCruiser delivered this year; Jim Burwell of Huntsville, Ala., placed his order for the 101st SportCruiser sold this year; and Moe Craddock, in Ferris, Texas, purchased two SportCruisers to use in his flight school. More info is available at
www.sportaircraftworks.com
.
Hall Of Fame
Sporty's chairman, Hal Shevers, was inducted into the National Association of Flight Instructors Hall of Fame in November 2007 at the Eagle Hangar of the EAA AirVenture Museum in Oshkosh. The Hall of Fame recognizes individuals who have made significant contributions to aviation education and flight instruction. As an instrument flight instructor since 1961, Hal was recognized for his pioneering work establishing three-day ground schools and his lifelong commitment to providing quality aviation educational materials for pilots of all experience levels. Visit
www.sportys.com
and
www.nafinet.org
.
Page 2 of 3