Friday, February 1, 2008
February 2008 Readback
Tempest And Robinson
Robinson Helicopter selected Tempest to supply its spin-on oil filter. Introduced in 2005, today's oil filters from Tempest feature many improvements, including a magnet that provides a secondary filtration system to capture and detect fine ferrous particles, as well as a PC housing that prevents catastrophic failure of the filter in the event of a weld fracture on the bypass valve. Tempest Vice President of Sales & Marketing John Herman said, "We're pleased that a company as highly respected as Robinson has selected our product as its oil filter of choice." Visit
www.tempestplus.com
and
www.robinsonheli.com
.

Heated Seat Cushion
Flying in an old aircraft on a cold and wintery day can be brutal. Old heaters often work intermittently and take a while to warm the cabin. Keep yourself warm with this Heated Seat Cushion, which operates on your plane's 12-volt lighter socket, uses four amps and features an adjustable thermostat. An adjustable fan in the front flap circulates air through hundreds of tiny vents in the microfiber and mesh materials. Comes with a seven-foot, 12-volt cord. For more information, contact Sporty's at (800) SPORTYS or
www.sportys.com
.

Updated Indestructible Plotter
If you've checked a low-altitude en route chart lately, you've likely noticed that they've been reconfigured—there are now 36 charts with nine mileage scales. Updated to work with all of these changes, the Indestructible Instrument Plotter conveniently measures distance and courses and calculates holding-pattern entries on any FAA Low Altitude Enroute Chart. The eight-inch-long Instrument Plotter has 10 easy-to-read mileage scales and a compass rose. The holding-pattern diagram can be overlaid on the chart to easily and accurately determine holding entries in seconds for both standard and nonstandard patterns. The Plotter can slide into a shirt pocket and is made of Lexan, so it won't warp or break. It comes with a lifetime guarantee and is acceptable for use during FAA written exams. For more, contact Sporty's at (800) SPORTYS or www.sportys.com.



An Ergonomic Flight Timer
The ASA Flight Timer has been created with pilot functionality in mind. It's ergonomically designed and engineered for reliability, ease and convenience. It features a large, easy-to-read LCD backlight display; a digital notepad for squawk codes or frequencies; three simultaneous timer options; audible and visual alarm modes; a fuel timer; an approach timer that allows pilots to store up to 12 different approach times; and an intuitive push and rotate dial for quickly and easily setting times. Pilots can accurately calculate time to the next waypoint, fuel tank changes, turns in holding or an instrument approach with complete confidence; it's applicable to both VFR and IFR flights. The timer meets the needs of all aviators, from student pilots working on their first cross-countries to flight instructors and seasoned veterans. For more, contact ASA at (800) ASA-2FLY or www.asa2fly.com.



Mini Flyers
Pedal Cars and Retro Collectables offers heavy-gauge steel pedal planes for kids, which are inspired by the 1941 Steelcraft U.S. Army Patrol Plane. Decked with chrome, the planes feature lead-free, baked enamel and a bright powder coat with a durable, chip- and rust-resistant finish. Sturdy, high-traction, solid rubber tires combine with the direct pedal spring to turn the propeller when kids pedal, making this a "real flying experience." Free shipping is available for the continental United States. For more, contact Pedal Cars and Retro Collectables at (877) 703-2613 or www.pedalcarsandretro.com.



Aircraft Comparison Database
Conklin & de Decker's Aircraft Performance Comparator Version 2.5.0 is the most comprehensive aircraft-performance comparison tool available. Users can easily overlay and compare aircraft interiors and exteriors, along with critical performance data that comes directly from the manufacturer's approved aircraft flight and performance manuals. Databases are conveniently grouped by jets, turboprops, helicopters and pistons. For more info, contact Conklin & de Decker at (508) 255-5975 or www.conklindd.com.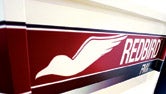 New Flight Simulators
Redbird Flight Simulations has just released two new simulators. The Redbird FMX is a versatile motion simulator, and the Redbird SD is its nonmotion counterpart. The FMX is the first full-motion AATD that doesn't require a trade-off between functionality and price. The SD serves as an excellent alternative to our FMX model for training environments where space is at a premium. Both feature a greater-than-220-degree visual display and an interchangeable cockpit system. The Redbird simulators are currently awaiting AATD certification. For more information, contact Redbird Flight Simulations at (512) 301-0718 or www.redbirdflightsimulations.com.
Page 3 of 3