Tuesday, April 1, 2014
ForeFlight Changing Aviation One Device At A Time
A chat with ForeFlight CEO Tyson Weihs
ForeFlight is a classic American success story and a proven innovator in the world of aviation. It's safe to say the ForeFlight mobile software application has changed how we think of flight planning and execution. Since cofounding the company in 2007 with his partner, Jason Miller, ForeFlight CEO Tyson Weihs has led the cause of richer integration with technology. Since ForeFlight's beginnings, Weihs' goal has always been to improve the aviation experience for pilots. "Elegant" is a word Weihs and his marketing team use quite a bit, and the ForeFlight mobile app—the company's flagship product—is the epitome of elegance, function and integration.
One of ForeFlight's strengths is the company's focus on collaboration. That's rare in an industry where manufacturers work hard to keep their innovations secret and away from the prying eyes of their competitors. ForeFlight has embraced collaboration, including working with Appareo and Sporty's on the award-winning Stratus dual-band ADS-B AHRS receiver, bringing affordable ADS-B capabilities to GA cockpits. We sat down with Weihs to talk about ForeFlight and the impact it has had on the industry, as well as what the future of general aviation might look like.
P&P: ForeFlight has become a phenomenal success. Did you foresee this kind of success with the product?
Weihs:
We have had very strong growth and, in fact, this market is one of the few high-growth areas in aviation. When we started, I had no idea that this is where we would be today. I could never have imagined how far we have come. We are at 34 employees, and still growing and doing very well.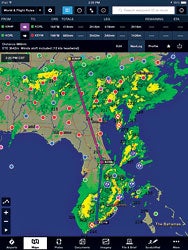 P&P: How did you first conceive of the ForeFlight product?
Weihs: I had a computer science degree and had developed software at three startups. Everybody was involved in general aviation at one of those companies, and we would fly GA to business meetings. Aviation was part of the company's DNA. I started flying in 2003 and was working on a web project to make checking METARs and TAFs easier. Jason Miller had developed a desktop application called ForeFlight, and we integrated our two projects. We originally set out to build a better airport information website, but when the iPhone appeared, we redirected our efforts towards it. Apple invited us into their developer program in 2008, and later that year ForeFlight became the first aviation app in Apple's new App Store. The iPad came out in 2010, transforming aviation and our company.

P&P: Tell us about collaborating with other companies.
Weihs: We collaborate with others in order to drive change and take a stand against overreaching regulators. When the FAA launched an initiative to charge user fees for chart data, we formed a coalition of companies and went to Washington to fight what we thought would result in a giant step backward. We joined GAMA to give the company and customers a seat at an influential table of folks dedicated to improving the aviation industry. On the technology side, we collaborate with others when we believe that, together, we can create a reliable solution and overall experience that will delight customers. Going forward, I see us collaborating with others to create standards that enable data interchange for flight planning and simplify avionics integration with tablets.
Page 1 of 2