Tuesday, April 26, 2011
Great New Products!
A selection of gadgets and gear from Aviation's Spring Break 2011: Sun 'N Fun
In the middle of the best of Spring Break air show times it became, for a day, the very worst of times. On what will remain in the memory of thousands of exhibitors, show goers—and insurance agents—as Black Thursday, tornado-force winds clocked at more than 90 mph ripped across the tarmac at Lakeland, Florida's Sun 'n Fun 2011 event. When horizontal needle-sting rains and catastrophic winds abated, up to 70 aircraft lay damaged or completely destroyed. Mud-splattered display tents dotted the grounds like huge torn flowers. Tents and flagpoles were bent and broken, tiedown anchors yanked out of the ground or snapped like twigs. Even cars were lifted and repositioned by the force of the storm. Dollar estimates of losses were horrendous; all agreed the final tally would be in the millions. A sad day for airplane owners and builders.
To the credit of Sun 'n Fun head John Burton and his hardworking crew and many volunteers, a Show-Must-Go-On resolve set in. Working feverishly, the clean-up force restored the devastated area, and by Friday morning, sunshine literally and figuratively reigned again. If the show was short on new GA and LSA aircraft, there was no shortage of innovations, intriguing new products and new wrinkles on familiar concepts, such as enhanced flight-training applications and the revival of an instrument as old as manned flight itself. The Blue Angels danced their inimitable aerial ballet above appreciative crowds in celebration of the 100th anniversary of Naval Aviation. Not to be outdone, a single Air Force F-22 Raptor purely dazzled with its physics-defying demonstration of advanced 21st- century aerodynamic maneuvers. Rain 'n Pain was, by the end, restored to Sun 'n Fun; the LSA Tour headed northwest to Georgia for another round of local airport demo shows, the buzz renewed for all the great flying just ahead.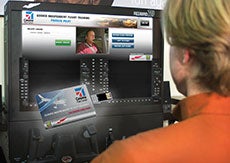 GIFT To Flight Training
Cessna Aircraft, King Schools and Redbird Flight Simulations debuted their new Guided Independent Flight Training (GIFT) program, a promising synergy of technologies that marries guided video instruction and demonstrations with hands-on simulator work. The program combines proven King Schools self-study video clips with all the Redbird simulator models. The result: focused and highly individualized training.
Students pick a topic, such as crosswind landings. The simulator plays a John and Martha King video discussion and demonstration of the flight maneuver. Then the simulator serves up a practice maneuver for the student to fly. After the round, the sim grades the student and gives feedback, which are saved on a USB-enabled storage card the student carries. Students can "fly" modules as often as they want. The benefit is twofold: deeper skill building and lower expense, since an instructor isn't always required. Contact:
www.cessna.com
.
Fastest Gun Alive
Cessna Aircraft rolled out the latest iteration of its sleek fixed-gear four-seater, the Corvalis TTX. The elegant composite speedster isn't only the world's fastest fixed-legs single (cruise—235 KTAS) but has extended range—1250 nm. Two legs, and you've hopped the U.S.! The TTX sports new interiors and paint scheme, and new standard and optional gear, including the Intrinzic Garmin G2000 flight deck, designed by Cessna around two 14-inch touch-screen LED displays to maximize pilot/passenger ergonom-ics and comfort, and simplify the high-permission workload.
Standard onboard instruments include remote digital audio panel, dual AHRS, Garmin GTS800 traffic warning system, Garmin GTX 33ES transponder with ADS-B, GFC 700 auto flight control and even a pulse oximeter. Upgrades include Garmin's GSR56 Iridium satellite datalink for global weather, and the Avidyne TWX670 lightning-detection system. Four new interior schemes feature leather upholstery and removable rear seats for more cargo capacity. Contact:
www.cessna.com
.
Next-Generation Zulu
Lightspeed Aviation, having already turned the aviation headset biz on ear with its super-comfortable, noise-canceling flagship Zulu model, isn't resting on its laurels. The latest Zulu features an attractive new look and technology enhancements. New features include patent-pending Microport Vent technology, and new electronic noise-cancellation hardware to broaden ANR (active noise reduction) consistency over a broader portion of the low-frequency sound range.
The new version also has a patent-pending Dual Aperture Disc microphone, redesigned speakers for improved noise rejection and "studio-quality" audio for rich multimedia audio. The stainless-steel headband is low profile for overhead clearance, and Bluetooth connectivity is there, along with auxiliary input for cell phones, music players and other audio gadgets. One cool feature: ComPriority lowers all peripheral audio volume when radio or intercom transmissions are made. Weight is just 13 ounces and new softer plush ear seals reduce side pressure by 15%. Contact:
www.lightspeedaviation.com
.
Fifty Years And Going Strong
Maule Air celebrates its golden type-certification anniversary with the latest version of the airplane that started its line of FAA-certified production aircraft. The new M-4-180V Jetasen II reinvigorates the M-4 Jetasen that got its FAA birth certificate in 1961, and led to a line of rugged, fun-flying, all-American made STOL airplanes. The new Jetasen represents several updates to the venerable design.
Jetasen II is a two-place, side-by-side STOL bird that echoes the fun-flying, high-tech aspects of LSA flight, although at 2,300 pounds and a useful load of 930 pounds, it goes way beyond LSA performance. The new model comes with two versions of the Lycoming 0-360 180 hp engine, and includes a baggage compartment rated to 200 pounds. Maule has produced more than 1,800 aircraft since the late founder B.D. Maule started the company. The sale of four IFR-equipped MXT-7-180 models was announced during Sun 'n Fun. Happy anniversary, Maule! Contact:
www.mauleairinc.com
.
Page 1 of 2
Labels:
Aviation News
,
Buyer's Guide
,
Gifts
,
New Products
,
Pilot Supplies
,
Shows and Fly-Ins
,
Ownership
,
Pilot Gear
,
Best Buys
,
Gear
,
Air Shows
,
What's New
,
Gadgets
,
Product Previews