Tuesday, June 5, 2012
Handheld Buyer's Guide
Technological advances are revolutionizing the GA cockpit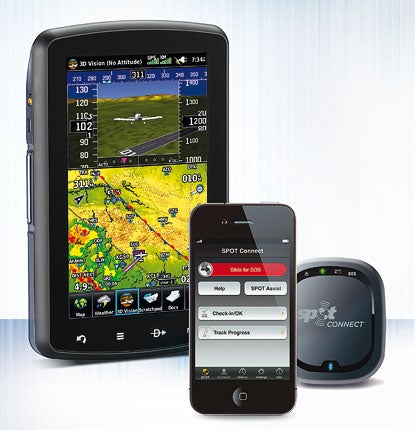 Garmin Aera 796; SPOT Connect
Smarter, faster and ever smaller, handheld devices for aviation are undergoing a revolution that surpasses anything we've seen before. In just the last five years, we've gone from laptop flight-planning software to best-in-class electronic flight bags that fit into the palm of your hand. And it's not just portable navigators that have made aviation safer and easier to manage; look at advances in personal locator beacons (PLBs), handheld transceivers and wireless connection devices. It seems each year the less expensive, newer model has more features than even front-line models had the year before. These are truly mind-bending times in technology, and we pilots get to just sit back in our cockpits and watch the advances transform our industry.
Though it's not truly a handheld device, the iPad continues to revolutionize both general aviation and commercial cockpits, while a cadre of interesting new palm-sized devices add new capabilities and features. Pilots can use the latest handheld devices for a number of tasks, with most complimenting each other in the cockpit. Also keep in mind that many cockpits simply can't accommodate devices like the iPad or laptops, so footprint becomes critical and features need to be plentiful but fit in a small footprint. We present some of our favorites.
ADR Florida FG-1700
www.adrsoft.com
ADR pioneered the electronic flight bag (EFB) concept back in 1998. Their latest device is an EFB that's integrated into a Fujitsu touch-screen portable computer running Windows XP tablet operating system—the FG-7100. The FG-7100 includes all essential functions such as GPS navigation from either a connected or Bluetooth GPS unit, XM, WSI and NEXRAD real-time satellite weather (from a portable receiver including WxWorx) and more. The beauty of ADR's EFB is that it can run all applications a laptop can run, but in a compact form factor. ADR also offers their FG-Airserve wireless transmitters for connection to GPS units, weather and chart services. ADR's FG-7100 EFB kit is $2,499.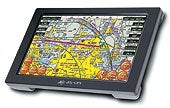 Adventure Pilot iFly 720
Adventure Pilot iFly 720
www.ifly.adventurepilot.com
If there's one device that can be called "sexy," it's the new iFly 720. "Sexy," because the unit does everything right. The real genius in the new 720 is the user interface; it's as intuitive and clean as they come. For starters, the seven-inch touch screen is the perfect size. The way every feature is positioned and the way it's selected shows the thought that went into this device. Everything is quick-tap, finger-sweep and drag, all without a single complexity thrown in. Second, every function (and there are plenty) is based around image-enhanced FAA charts. You have to use this little wonder to really get to know it. Everything you can think of is here: georeferenced charts and approach plates, airport diagrams and information, rubber-band flight planning, moving map, live NEXRAD without fees, traffic, ADS-B weather, NMEA output for autopilot and a whole lot more. Sure, the iPad can do some of this, but not as simply, intuitively, or in such a nice, clean package. It works on streets, too! For $749, this is a home run.

AvMap EKP V
AvMap EKP V
www.avmap.us.com
This unit packs quite a wallop in a small package. Like the iFly unit, AvMap's EKP V features a seven-inch screen, but is designed with heavier-duty features in mind and can be considered more of a portable multifunction display (PMFD). For example, the EKP V has a u-blox 5 GPS unit built in. One major new feature is the special docking station that allows the unit to connect to several on-board devices at the same time (autopilot, XM WX, CAS, EIS, EFIS etc.). The EKP V's maps contain Jeppesen Data, Low airways, private airports, Seattle Avionics' ChartData (32,000 georeferenced approach charts and airport diagrams for USA and Europe), Vertical obstructions, VFR Reporting points and detailed Terrestrial Coverage. Not a touch-screen device, AvMap's EKP V features a new practical keyboard with a configurable key, a progressive joystick and a smart-wheel selector. The EKP V has a new graphical user interface and full QWERTY virtual keyboard. It sells for $1,998 MSRP.

Control Vision Anywhere Map
Control Vision Anywhere Map
www.anywheremap.com
Control Vision has been making some wonderful portable units. Their ultra-compact, 4.3-inch display Quadra is now in its second generation, with all of its "growing pains" ironed out. Users have applauded Anywhere Map's user interface, and it remains one of my favorites. The newest Quadra is one of the most full-featured truly portable units out there, and with a price range from $399 to $699 with all the bells and whistles, it's a great bargain. The newest Septa unit strides the handheld/yoke-mount category with its seven-inch display and unique powered yoke mount. Both units offer Anywhere Map's gorgeous and intuitive graphical interface, with all its features that include GPS moving map, charts, flight planning, weather and airport diagrams. The newest units have a built-in logbook, "taxi-express" that shows aircraft position on airport diagrams, rubber-band routing and more. Retails at $1,495 for the Septa.
Page 1 of 3