Tuesday, June 5, 2012
Handheld Buyer's Guide
Technological advances are revolutionizing the GA cockpit

Delorme In-Reach
Delorme In-Reach
www.delorme.com
This little unit truly is the world's most affordable satellite communicator. Since 90% of the Earth's surface lacks cell-phone reception, landing in a truly remote area could mean trouble for a pilot. Whereas PLBs can transmit your location, communication is very limited. In-Reach is a portable satellite communicator that fits into the palm of your hand. On its own, the unit will send pre-set messages to the GEOS International Emergency Response Coordination Center at the press of a distress button, and give delivery confirmation. It also transmits your GPS coordinates at intervals you select and provides remote tracking. Unlike a PLB, when paired with an Android phone through Bluetooth, In-Reach can send full text messages back and forth from and to anywhere on the planet regardless of cellular reception, and it can access topographical maps and pinpoint your location. Forget expensive satellite phones, since this unit costs $249.95, plus a monthly subscription of $9.95 to $49.95, depending on package. In-Reach floats, is waterproof and includes two AA lithium batteries that provide 60 hours of run time.
Garmin Aera 796
www.buy.garmin.com
Garmin raises the bar once again with their handheld Aera 796. A next-generation EFB, the Aera changes the portable game. Right out of the box, what makes this unit different is Garmin's new "3D Vision" technology. It shows a virtual 3D behind-the-aircraft perspective of surrounding terrain derived from GPS and the onboard terrain database. Sliding your finger across the touch screen rotates the view, and shows land and water contours and features, obstacles, runways and airport signposts in relative proximity to the aircraft. Garmin's ultra-fast, 5 Hz (five times per second) update rate makes graphics move smoothly. The 796's seven-inch touch-screen display is readable even in bright sunlight and has a portrait or landscape mode. Pre-loaded georeferenced charts are available, or users can load Jeppesen charts through Garmin's ChartView service. A document viewer is built in, and a scratch-pad feature allows you to write clearances, ATIS, etc. Two serial ports allow connection to other hardware. Retails for $2,749.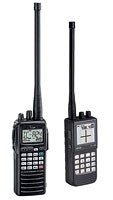 Icom IC-A24; Sporty's SP400
Icom IC-A24
www.icomamerica.com
When it comes to a solid and functional device, Icom's IC-A24 transceiver is a winner. Nothing fancy, it's a handheld aviation band receiver and transmitter that can double as either a backup radio or as a primary radio in LSA or vintage aircraft without electrical systems. All its features are well conceived: one-handed operation (critical for pilots), a large backlit display and keypad that remains lit until you turn it off, "flip-flop" frequencies with 10-channel storage and 200 frequency memory, an external DC power jack or optional batteries, and automatic noise reduction. The IC-A24 has both COM and NAB channels, while the smaller IC-A6 is just COM. The unit has a load of accessories available, including various clips and cases, headset adapters and chargers. The unit is made in Japan with quality components, which is rare these days. The A-24 lists for $599, though most dealers price it right around $300, while the A6 is even more affordable.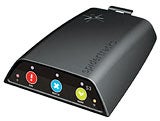 Spidertracks
Spidertracks
www.spidertracks.com
Spidertracks is a PLB that allows you to pinpoint your position when traveling, send out distress messages and displays your track graphically. The lightweight S3 unit is designed for either private or light commercial aircraft. It has an integrated keypad and sits on the dashboard of your aircraft with an adhesive bracket. The S3 is powered through a cigarette lighter plug or hardwired into the aircraft's electrical system. Once powered up, the unit sends your location at intervals based on which subscription plan you choose. If the unit stops sending position reports (as in a crash), a distress signal is sent with your GPS coordinates. Spidertracks works in conjunction with a website piece that acts as a sort of "flight following" monitor and turns on automatically when you take off. The website piece displays where you took off, where you flew, how far you flew, how fast and how high, and records it all automatically in your online logbook. Friends and family can also view your flights through the web feature. The S3 lists for $995 plus various subscription plans based on how many hours you fly.
Sporty's SP-400
www.sportys.com
If Sporty's knows one thing, it's what pilots really use and what they really want. It's this thought process that resulted in Sporty's own SP-400 handheld NAV/COM radio. The SP-400 is so powerful that it matches—and sometimes exceeds—panel-mounted gear. The unit's oversized, crisp, high-resolution screen makes it easy on eyes of any age. The SP-400's simplicity is refreshing: There are no menus or wheels or touch screens. You just type in the frequency using the perfectly sized keys. Easy-to-find AA batteries power the unit, and it all fits in the palm of your hand. On the technical side, the SP-400 sports flip-flop frequencies, and both a NAV and COM mode. It's the only portable unit in the industry with a big ILS and VOR display. It also features a built-in NOAA weather receiver. Several accessories are available. $399.
Page 2 of 3