Tuesday, December 1, 2009
January/February 2010 Readback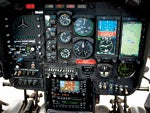 First Aspen Helicopter Installation
The Dale County Sheriff's Office in Ozark, Ala., has received the first installation of an Aspen Avionics EFD1000H Pro PFD and MFD into an operational helicopter, a Bell OH-58. "Aspen's entry into the rotary-wing market has been eagerly anticipated by a large number of local-government operators," said Aspen CEO and President John Uczekaj. Visit
www.aspenavionics.com
.
Mid-Continent & AeroMech
Mid-Continent Instruments is partnering with AeroMech on certifying the new MD835 Emergency Power Supply. This teams Mid-Continent's lithium battery with AeroMech's expertise in the development of avionics STCs, including a number of complex RVSM certifications for fixed-wing aircraft. Visit
www.mcico.com
and
www.aeromechinc.com
.
Rocky Mountain College Accredited
The aviation program at Rocky Mountain College in Billings, Mont., has been awarded accreditation for its bachelor of science majors in aeronautical science (professional pilot) and aviation management by the Aviation Accreditation Board International (AABI). Visit
aviation.rocky.edu
and
www.aabi.aero
.
EVS For Baron & Bonanza
Forward Vision's EVS-100 and EVS-600 enhanced vision systems soon will be available for Hawker Beechcraft's Bonanza and Baron. EVS technology will be an option on factory-new airplanes, and HBC service centers will provide STC-approved systems. Visit
www.hawkerbeechcraft.com
and
www.forward-vision.net
.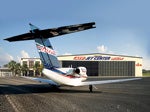 ATP Opens First FBO
ATP Jet Center, a full-service FBO and training center at Daytona Beach International, is now open. Future FBOs are planned for Arlington, Texas, and Mesa, Ariz. ATP will offer D-Jet training at each of the new facilities. Visit
www.atpflightschool.com
.
Sky FusionPak Gets STC
Sky IMD has received an FAA STC for installation of its Sky FusionPak surveillance system on Cessna 152/172/182 aircraft. Sky FusionPak is an ideal solution for such missions as pipeline inspection, law enforcement, border patrol and firefighting. Visit
www.skyimd.com
.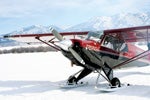 XC Skiing In A Husky
This winter, strap some skis on your Husky. Ski options for the A-1C include fixed or Fluidyne retractable skis, both made of fiberglass, as well as deluxe RF retractable graphite skis. Visit
www.aviataircraft.com
.
Amphib FloatCub
The Amphibious Legend FloatCub has been certified and now is available for purchase. The new aircraft is based on the Legend Cub and is configured with amphibious floats from Baumann Floats. The certified LSA meets the category's seaplane requirements with repositionable landing gear. Visit
www.legend.aero
.
Blue Skies: June & Gary Maule
Services were held on November 1 for June Maule, the matriarch of Maule Air Inc., who passed away on October 29, following a brief illness. She was 92. "The same day, we also lost her son, Gary, at age 57, from leukemia," said an e-mail sent out by the Maule family. "They were very close in life and we are blessed to know they are together." June Maule was an institution for over 40 years in Moultrie, Ga. She ran Maule Air with her husband, B.D., until his death in 1995; she continued on as the president.

Page 2 of 3