Tuesday, May 26, 2009
July 2009 Readback
First Wolfpitts Pro!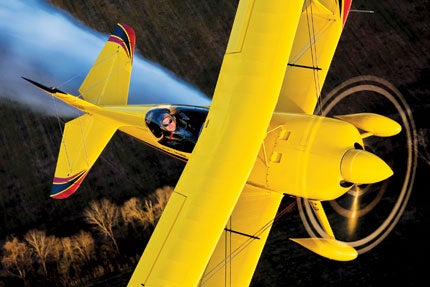 First Wolfpitts Pro!
Steve Wolf's latest creation flies! Wyche T. Coleman III, of Shreveport, La., has taken delivery of the first Wolfpitts Pro, which he intends to fly in aerobatic contests and air shows. From the creator of Samson, Gee Bee R-2 and Hughes H-1 racer replicas, Wolfpitts Pro represents the highest evolution of the aerobatic biplane. Based on the Pitts S-2, with many modifications, the Wolfpitts combines the crowd-pleasing looks of a biplane with the performance specs of today's premier aerobatic monoplanes. With an original design fuselage and first-of-its-kind carbon-fiber flying tail, the airplane is capable of ultraslow-speed 3-D maneuvers previously only achieved with radio-controlled aircraft. It's powered by a 400 hp modified Lycoming IO-540 and has a takeoff climb of more than 5,000 fpm, a max cruise of 220 mph and a Vne of 285 mph. Visit www.wolfpitts.com.

ATP Provides TIS & Opens New Center
Airline Transport Professionals has announced a large-scale rollout of Traffic Information Service (TIS) by providing its entire staff of flight instructors with an MRX Portable Collision Avoidance System by Zaon Flight Systems. The MRX is a portable TIS with approximate range and relative altitude displayed for nearby traffic.

On May 4, ATP opened its Charlotte Flight Training Center at the Concord Regional Airport in Concord, N.C. The new center will offer single- and multi-engine training from private through ATP, including ATP's Airline Career Pilot Program. ATP is opening at least five new centers in 2009. Visit www.atpflightschool.com.
Page 1 of 4