Tuesday, May 26, 2009
July 2009 Readback
First Wolfpitts Pro!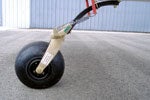 New Husky Tailwheel
Alaska Bushwheel has just completed the FAA's approval process for utilizing a new tailwheel assembly on Aviat Aircraft's Husky A-1C. The tailwheel features a three-leaf steel-tail spring that weighs 2.5 pounds less than the old five-leaf model and is approved for the Husky's 2,200-pound gross weight. The new Alaska Bushwheel tailwheel assembly is now standard equipment on the Husky A-1C and can be retrofitted to older Husky models. Visit
www.aviataircraft.com
and
www.akbushwheel.com
.
New Additions At Forward.Vision

Kate Dougherty has joined Forward.Vision as its new director of public relations. For the past seven years, Dougherty served as head of public relations for Cirrus Design. Also joining the team is air show star Patty Wagstaff, who will promote the safety benefits of the enhanced vision system, EVS-100. Additionally, American Champion Aircraft has announced that the EVS-100 will now be available on its aircraft product line. Visit
www.forward-vision.net
.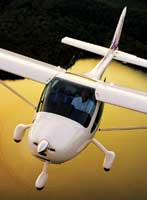 Online Wx Workshops
Chesapeake Aviation Training, in Fort Mill, S.C., is now offering online aviation weather workshops. Its subscription-based website will introduce pilots to many aspects of preflight weather analysis and planning. Website creator Scott C. Dennstaedt says, "The primary goal of this new website is to help pilots consistently recognize the location of adverse weather prior to departure, and show them how to formulate a plan to avoid it while in flight." AvWxWorkshops.com will feature weekly releases of one or more online mini-workshops tailored to make pilots more weather savvy. Visit
avwxworkshops.com
.
Summer Camp!
High school students over 17 years of age who participate at US Flight Academy's new summer camp will, at the end of three weeks, go home with a sport pilot license. Anyone younger than 17 will need to return for solo flight requirements as well as the checkride. Most students should be ready for the checkride with 30 hours of flight time. The three-week classes will run daily from 8 to 5, and have guest speakers and other activities. Program director Justin Shelley says, "Going home with a sport pilot license will be a little different than heading home with a clay ashtray. This could be a phenomenal graduation present." Visit
www.ussportplanes.com
.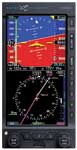 Aspen Avionics Upgrade
Aspen Avionics now offers several upgrade options to its Evolution product line, including a flush mount kit, analog converter unit and autopilot attitude reference source replacement. The flush mount kit enables customers to mount Evolution Flight Displays (EFDs) flush with their instrument panels. The analog converter unit allows the all-digital EFD system to integrate with legacy analog systems, such as autopilots and VHF radios. The autopilot attitude reference source replacement lets pilots eliminate all mechanical flight instruments. Visit
www.aspenavionics.com
.
Page 2 of 4