Tuesday, May 26, 2009
July 2009 Readback
First Wolfpitts Pro!
Get A Handle On That Mess
Sporty's Hangar Caddy is a wide-mouth bag offering an easy way to organize tiedowns, chocks, cleaning supplies, oil and much more. The Hangar Caddy is equally useful in both your hangar and the back of your airplane, and doubles as a tool bag. A rigid, removable handle supports more than 100 pounds of supplies, and mesh pockets easily hold rags, batteries and other small items.
Contact:
Sporty's, (800) SPORTYS,
www.sportys.com
.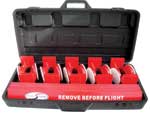 Protect Your Plane
The AeroSpoiler is a lift-reduction device used for storm protection on aircraft parked outside during adverse weather conditions. Each kit contains 10 cup/receiver assemblies and eight 30x3-inch blade assemblies and offers 20 feet of wing coverage. Reduce the lift-producing capability of your aircraft wing by as much as 96% on the area covered by the AeroSpoiler. Extension kits are available for airplanes requiring more than 20 feet of wing coverage.
Contact:
Aircraft Spruce, (877) 477-7823,
www.aircraftspruce.com
.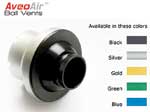 Colorful Ball Vents
AveoAir Ball Vents are lightweight and machined from 2024 aluminum alloy, anodized in your choice of five different color finishes. With their simple two-piece threaded design, the ball vents offer easy installation, eliminating the need to drill for screws. The vents are perfect for small panel spaces and come with a choice of three diameters (1.5, 1.75 and 2 inches), so you can optimize your air flow.
Contact:
Aircraft Spruce, (877) 477-7823,
www.aircraftspruce.com
.
Page 4 of 4