Tuesday, May 20, 2014
July 2014 Readback
Sunseeker Duo's First Solar-Powered Flights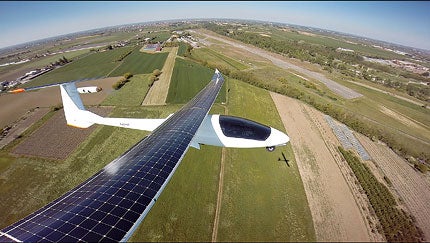 Solar Flight has been test flying the first solar-powered airplane with a passenger seat, the Sunseeker Duo. The first flight was conducted at Solar Flight's test facility in Voghera, Italy, by Eric Raymond on December 17, the anniversary of the Wright Brothers' first flight at Kitty Hawk. Solar Flight's mission is to lead the way for the future of sport aviation using the most advanced technologies in the world. Irena Raymond said, "We are working very hard to have the airplane tested and ready for passenger flights by this summer. No sight is more captivating than earth from above. It will be even more beautiful from the cockpit of a solar-powered airplane." The Sunseeker Duo has a wingspan of 22 meters, an empty weight of 280 kilograms and 1,510 solar cells with 23% efficiency. The motor has a maximum output of 25kW. The airplane is able to cruise directly on solar power with two people on board and is capable of durations in excess of 12 hours. It uses a battery pack located in the fuselage to store energy harvested from the solar cells that line its wings and tail surfaces. Visit
www.solar-flight.com.
Piper & Continental Obtain EASA STC for Diesel-Powered Archers
Piper Aircraft and Continental Motors have collaborated to obtain a European Aviation Safety Agency (EASA) Supplemental Type Certificate for Piper Archer aircraft powered by the Centurion 2.0S diesel engine. "This milestone development by Piper and Continental represents a continuation of Piper's strategy to provide multiple fuel solutions for our customers," said Piper President and CEO Simon Caldecott. "This is the next step in ensuring that future Piper owners and operators have access to more economical and readily available fuel supplies, especially in Europe where traditional leaded avgas is hard to find and expensive." Ground and flight tests on the Piper Archer, powered by a Centurion 155 hp Jet-A compression ignition engine, were conducted by the companies from Technify's airport facility at Altenburg, Germany. Technify's Centurion 2.0S engine is certified to use both Jet-A and diesel fuel and with the two fuels in any mixture ratio. The company has a long history with Piper aircraft. The first aircraft to fly with the Centurion 1.7 was a Piper Warrior which obtained the certification in 2001. Visit
www.piper.com
and
www.centurion.aero
.
Century Flight Systems Autopilot STC
Century Flight Systems received a Supplemental Type Certificate from the FAA for the installation of their Century 4000 Autopilot in Beechcraft Bonanza 35 aircraft models C to V. "Over 7,510 Bonanza 35 C-Vs were produced over the period of 1951 to 1982. Many of these planes are 50-60 years old and are now being upgraded in their avionics suites; the C4000 is an ideal autopilot candidate to add safety and performance-enhancing technology to these magnificent aircraft," said Bill Eubanks, Century Flight Systems' President. Other aircraft already with STCs for the C4000 are the Piper Twin Comanche, Cherokee and Saratoga, and the Cessna Skylane and Golden Eagle. Visit
www.centuryflight.com
.
ICON Aircraft Production Update
As the ICON A5 moves closer to FAA approval and serial production, the ICON team continues to progress with assembly of the first production prototype A5. Engineering Serial Number 1 (ESN1), currently being built at ICON's facility in Tehachapi, Calif., is the first of several planes that will support the FAA compliance audit for LSA airworthiness. ESN1 is also the first aircraft from ICON to be manufactured using production tooling and is on target for completion later this year. In the third quarter of 2013, ICON's suppliers began manufacturing the hundreds of aluminum, steel, and carbon fiber molds Cirrus Aircraft is using to build the composite airframe components of the production A5. At the same time, other suppliers began construction of the assembly fixtures with which ICON is building the aircraft. Visit
www.iconaircraft.com
.
Bahamas Pilot Challenge Winners
PilotMall.com announced the winners of the 2013 Bahamas Pilot Challenge conducted for the Bahamas Ministry of Tourism. Pilot Mall entrepreneur Neil Glazer, one of 13 Bahamas Flying Ambassadors who promote aviation tourism to the islands, administered the contest for North American flyers. Over 100 pilots entered the Challenge seeking prizes totaling 21 free nights at some of the Bahamas' grandest resorts. Winners were those who logged the most landings at Bahamas airports of entry. "We're delighted that contestants hailed from all over, not just the Southeast," said Glazer. "Clearly, last year's increase in government fees did not deter participants from flying to the islands." Visit
www.pilotmall.com
.
100th Cessna Grand Caravan EX Delivery
Cessna Aircraft is celebrating the milestone delivery of the 100th Cessna Grand Caravan EX. The aircraft has been supplied to Hussain Ali Rashid Almoalla for use at his aviation club in the United Arab Emirates. Almoalla, who also owns a Cessna Skylane and Cessna Stationair, is personally flying the Cessna Grand Caravan EX back to his home base in Abu Dhabi, a trip covering 9,000 nm. "The Cessna Grand Caravan EX, which was announced in 2012, is synonymous with versatility," said Christi Tannahill, senior vice president, Turboprop Aircraft. "The increased horsepower and configurable interior has resonated strongly with our customers around the world. Reaching this milestone delivery speaks to the strength of the program and the confidence our customers have in the product." Visit
www.cessna.com
.
Page 1 of 2