Friday, July 1, 2005
July-Aug 2005 On The Radar

Adam Aircraft received the final type certificate for the pressurized, twin-engine A500. Less than one year after founders Rick Adam and John Knudsen gave Burt Rutan $1 million and a back-of-the-napkin design for an all-composite, centerline-thrust twin, a proof-of-concept A500 was flying over Mojave, Calif. In 2002, flight testing began out of Denver's Centennial Airport." />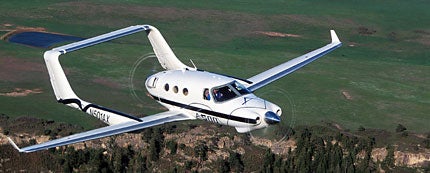 Attaboy, Adam!
Adam Aircraft received the final type certificate for the pressurized, twin-engine A500. Less than one year after founders Rick Adam and John Knudsen gave Burt Rutan $1 million and a back-of-the-napkin design for an all-composite, centerline-thrust twin, a proof-of-concept A500 was flying over Mojave, Calif. In 2002, flight testing began out of Denver's Centennial Airport. Production of the A500 will continue in Colorado and now in Ogden, Utah, to meet the company's goal of producing six aircraft a month. Adam estimated its design team has spent more than 1.5 million man-hours since certification operations began in 1998.

Final performance numbers for the A500 include a 230-knot cruise speed, 1,000-plus nm NBAA IFR range at 75% power and a cabin altitude of 8,000 feet at its maximum altitude of 25,000 feet. The A500 is expected to compete head-to-head against the Beechcraft Baron and even the King Air, both of which leave the door with a heftier price tag. Customer deliveries of the A500 are expected to begin in Q3 of this year. Adam Aircraft continues flight testing for its pure jet A700. For more information, contact Adam Aircraft at (303) 406-5900 or log on to
www.adamaircraft.com
.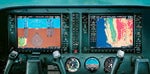 The World's Most Popular Airplane Goes Glass
Aliens returning from a visit to Earth would report that the most commonly occurring aircraft on the planet is the Cessna 172. Since its release in 1956, production numbers are approaching the 50,000 mark. Eat your heart out, Boeing. Now the venerable Skyhawk is available with a full glass cockpit, making the world's most popular airplane also one of the most capable.
The Garmin G1000 integrates all primary flight, engine and sensor data to provide at-a-glance situational awareness. Real-time, flight-critical information is presented on two big, colorful 10.4-inch active-matrix LCD screens. This optional Nav III package is available on both the 172R-GA and 172S models. For more information, call Cessna Aircraft Company at (800) 4-CESSNA or visit
www.cessna.com
.
Page 1 of 4