Friday, July 1, 2005
July-Aug 2005 On The Radar

Adam Aircraft received the final type certificate for the pressurized, twin-engine A500. Less than one year after founders Rick Adam and John Knudsen gave Burt Rutan $1 million and a back-of-the-napkin design for an all-composite, centerline-thrust twin, a proof-of-concept A500 was flying over Mojave, Calif. In 2002, flight testing began out of Denver's Centennial Airport." />

Symphony 160

New Piper Meridian
And Now The VLJs
The race to certification for the very light jet (VLJ) category is still a little too close to class, but once-front-runner Eclipse Aviation is again claiming the lead. The Albuquerque, N.M.-based manufacturer now has three Eclipse 500 jets in flight testing and is predicting certification in early 2006. Now flying with Pratt & Whitney PW610F turbofans, Eclipse reports its pace has accelerated and is, once again, on track to be the first to deliver. For more info, contact Eclipse Aviation at (505) 245-7555 or check out
www.eclipseaviation.com
.
Cessna's VLJ entry, the Mustang, already has entered flight testing and anticipates using three airframes for the certification process. Cessna announced this smallest member to its Citation family in 2002 with a projected certification in 2006. The Mustang is projected to have a 1,300-nm IFR range and a full-fuel payload of 600 pounds (not counting a single pilot), with a ceiling of 41,000 feet.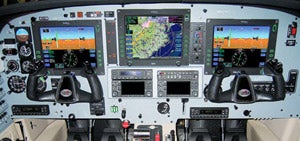 The Mustang and the Eclipse 500 generally are considered to be the front-runners for a first-place finish as the first VLJ, although as we all know, anything can happen. As well in the pack are the Adam A700, the ATG Javelin (
www.avtechgroup.com
), the Diamond D-JET (
www.diamondair.com
) and the Sino Swearingen SJ30-2 (
www.sj30jet.com
). The Vantage Jet has popped up in Brazil, hoping to finish its flight testing there and take advantage of Brazilian and FAA certification reciprocity. Rumors of other jet development projects at Piper (
www.newpiper.com
), Cirrus (
www.cirrusdesign.com
), Epic (
www.epicaircraft.com
) and others are widespread.
The Glass Menagerie
The battle of the VLJs isn't the only conflict that is brewing in aviation. There's a war going on between the two prime general-aviation glass-cockpit manufacturers, Garmin and Avidyne, for your panel. The latest battle goes to Avidyne.
Symphony Aircraft (
www.symphonyaircraft.com
) and New Piper (
www.newpiper.com
) both endorsed the Avidyne FlightMax Entegra. The Symphony 160 becomes the first two-seat aircraft to offer glass-cockpit technology. Starting this month, the PA-46 turbine Meridian joins the Piper family of PA-28s (Warrior, Archer and Arrow) and the PA-32s (Saratoga and 6X) with an integrated big-screen flight deck.
Avidyne (
www.avidyne.com
) also announced a series of new features for the Entegra. Lancair Columbia 350s and 400s will become the first aircraft to offer MultiLink. This technology integrates Avidyne's existing Narrowcast Datalink weather system with XM WX broadband satellite downloads for weather info across the continental United States. XM WX provides high-speed, nearly real-time, NEXRAD radar images along with METARs, AIRMETs, SIGMETs, TFRs and lightning strike data. Datalinking services also are available to Avidyne customers on the ground via FlightCenter services. Users on the Internet can track aircraft en route as well as send two-way text messages back and forth to the cockpit.
Page 3 of 4