Friday, July 1, 2005
July-Aug 2005 On The Radar

Adam Aircraft received the final type certificate for the pressurized, twin-engine A500. Less than one year after founders Rick Adam and John Knudsen gave Burt Rutan $1 million and a back-of-the-napkin design for an all-composite, centerline-thrust twin, a proof-of-concept A500 was flying over Mojave, Calif. In 2002, flight testing began out of Denver's Centennial Airport." />

The Avidyne Entegra also now has radar display capabilities, allowing data from the Honeywell Bendix/King RDR2000 digital radar to overlay onto the EX500's 10.4-inch flat screen. Pilots can toggle back and forth between airborne radar and NEXRAD radar images for double-whammy weather viewing.

Recently, Avidyne announced a flight director for the Cirrus SR20 and SR22, as well as CMAX digital charts and approach plates. The FAA now says that electronic chart displays relieve any regulations for carrying paper backups in the cockpit, although many pilots say they will keep a set of old-fashioned paper on board—just in case. But stay tuned—Garmin is expected to announce upgrades to the G1000 glass panel this month at the EAA AirVenture. Call Avidyne at (800) 284-3963 or visit

www.avidyne.com

, or call Garmin at (913) 397-8200 or log on to

www.garmin.com

for more info.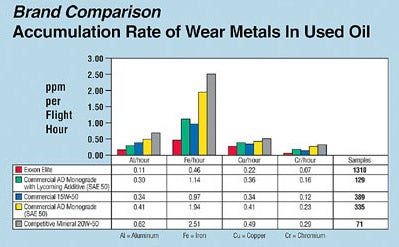 Exxon Causes You To Wear Less?
ExxonMobil Aviation Lubricants are reporting what they call "significant research analysis" that indicates aircraft engines lubricated with Exxon Aviation Oil Elite 20W-50 wear less (see the Brand Comparison chart). The company gathered data from an independent laboratory that performs oil analysis to determine the amount of metal, reported as parts per million, that ended up in the oil. According to Exxon, results of oil analyses from 1998 through 2004 show a 33% to 50% decrease in the presence of wear metals in engines lubricated with Elite.
"The results are verifiable for any other company to analyze," says Exxon/Mobil's Steve Sunseri. "We have 99% confidence in the results, which means that if this test was done 100 times, one in 100 might come up with a different result." Exxon commissioned the study after customers reported a decrease in wear metals. Contact Exxon/Mobil at (800) 662-4525 or click on
www.exxonmobil.com
.
Page 4 of 4