Sunday, July 1, 2007
July-Aug 2007 On The Radar

The year 2006 was the best for Pilatus since the company was founded. They recorded a double-digit increase in number of aircraft sold; additionally, sales and operating income have been on an upward curve for the past four years. More than half the company's sales (51%) were generated in North and South America, and more than a quarter (29.2%) in Europe, followed by Asia (9.2%), Australia (7%) and Africa (3.6%). In 2006, 102 aircraft were manufactured—13 more than in the previous year. With 90 aircraft, the PC-12 represented the highest proportion, followed by seven trainer aircraft and five Pilatus Porter PC-6s." />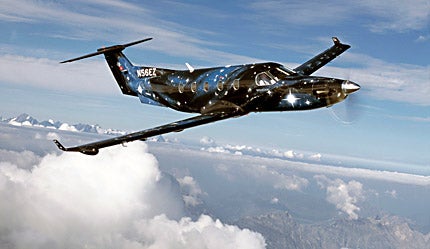 A Record Year For Pilatus
The year 2006 was the best for Pilatus since the company was founded. They recorded a double-digit increase in number of aircraft sold; additionally, sales and operating income have been on an upward curve for the past four years. More than half the company's sales (51%) were generated in North and South America, and more than a quarter (29.2%) in Europe, followed by Asia (9.2%), Australia (7%) and Africa (3.6%). In 2006, 102 aircraft were manufactured—13 more than in the previous year. With 90 aircraft, the PC-12 represented the highest proportion, followed by seven trainer aircraft and five Pilatus Porter PC-6s. For Pilatus, the limiting factor in the number of deliveries wasn't sales, but production. It simply wasn't possible to manufacture more than 102 aircraft in 2006, regardless of how many orders were received. For this reason, Pilatus is now planning a spacious extension. Pilatus also delivered its 700th PC-12 to a Canadian owner who will use the aircraft, his second PC-12, for personal and business travel. The owner explained, "The Pilatus PC-12 is an exceptional personal aircraft. With its speed, range, comfort and reliability, it has no rivals in its class. I've had a great deal of pleasure flying my first one throughout North America, and I look forward to many exciting trips in my second PC-12." This same owner has already committed to purchasing a third PC-12, which will be delivered in 2010. For the past four years in a row, the PC-12 has been the top-selling, turbine-powered, business aircraft. To build on its success, Pilatus plans to introduce the Next Generation PC-12 later this year. Visit
www.pilatus-aircraft.com
for more.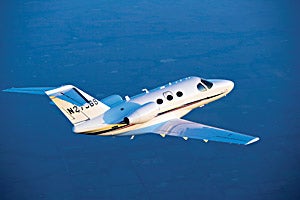 Cessna Delivers The First Retail Citation Mustang
In April, Cessna delivered the first retail Citation Mustang business jet to Dave and Dawn Goode. It was the third production Mustang delivered from the Independence, Kans. facility. (Cessna is using the first two as marketing demonstration aircraft.) "We're proud to be the owners of the first retail Mustang, and we're excited about putting it into service," said David Goode, president and founder of GOODE Ski Technologies and a former U.S. Ski Team member. "We plan to fly our Mustang to extreme ski locations to test out our newest line of snow skis," he continued. "Having short-field capability will allow us to land at smaller, more remote airports near some of the best ski resorts in the world."
On September 8, 2006, the Mustang became the first VLJ to be granted type certification from the FAA. Cessna plans to deliver 40 Citation Mustangs in 2007, with production ramping up to about 150 aircraft yearly by the end of 2009. The six-place Citation Mustang has a top speed of 340 KTAS (nearly 400 mph), a range of 1,150 nm and a service ceiling of 41,000 feet—well suited for getting above most weather and commercial traffic for more efficient operations. For more info, visit
www.cessna.com
.
Page 1 of 4