Sunday, July 1, 2007
July-Aug 2007 On The Radar

The year 2006 was the best for Pilatus since the company was founded. They recorded a double-digit increase in number of aircraft sold; additionally, sales and operating income have been on an upward curve for the past four years. More than half the company's sales (51%) were generated in North and South America, and more than a quarter (29.2%) in Europe, followed by Asia (9.2%), Australia (7%) and Africa (3.6%). In 2006, 102 aircraft were manufactured—13 more than in the previous year. With 90 aircraft, the PC-12 represented the highest proportion, followed by seven trainer aircraft and five Pilatus Porter PC-6s." />
Hawker Beechcraft Celebrates Beechcraft's 75th Anniversary
Seventy-five years ago, on April 19, 1932, Walter and Olive Ann Beech formed the Beech Aircraft Corporation at the old Travel Air manufacturing facilities in Wichita, Kans. To mark this 75th anniversary, special Beechcraft celebrations and events will occur throughout the year, including a showing at EAA AirVenture in July and an open house in September in conjunction with the American Bonanza Society Convention at Beech Field in Wichita. Updates on events and activities as well as history and other information will be released throughout the year and can be found at
www.hawkerbeechcraft.com
.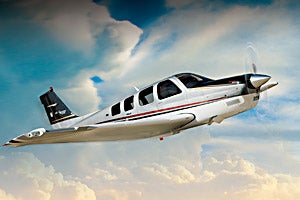 "This year we celebrate the 60th anniversary of the venerable Bonanza, the 75th anniversary of Beechcraft and the beginning of our new company, Hawker Beechcraft Corporation. We think Walter and Olive Ann would be very proud," said Jim Schuster, chairman and CEO. "As we celebrate the past, we also look forward to writing the next book in the history of our great company."
Beechcraft began with the classic Model 17 Staggerwing. Designed for the business traveler, the airplane proved to be faster than the military pursuit airplanes of the day. During World War II, the company produced the AT-7 and AT-11 (derivatives of another classic) and the Beechcraft Model 18, and they trained almost 90% of all U.S. Army Air Corps bombardiers and navigators. In 1947, the company introduced the Model 35 Bonanza, an airplane whose descendants continue in production today as the Beechcraft Bonanza G36.
Pioneering use of technology, such as composite materials for fuselage construction, has kept the company at the forefront of general aviation manufacturing for 75 years. With more than 45,000 aircraft manufactured and more than 36,000 still flying, the Beechcraft story is an enduring legacy that's only beginning. Hawker Beechcraft Corporation is taking the best of two of the strongest brands in aviation and growing them into a company that will write the next 75 years of history. To share in the festivities, click
www.hawkerbeechcraft.com
.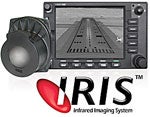 Seeing In The Dark
L-3 Communication Avionics Systems' infrared imaging system, IRIS, is expected to be certified on the King Air C-90 in the first quarter of 2007. Customer deliveries will follow shortly thereafter. Used for situational awareness, ground maneuvers and collision avoidance, terrain mapping and more, the night-vision system detects variations in heat, and creates an electronic image of objects. The black-and-white electronic image can be displayed on any system that provides an RS-170 or NTSC composite video input, and plans include compatibility with electronic flight bags and other display systems. L-3 Avionics Systems President Adrienne Stevens commented, "In keeping with our heritage of making advanced products available for general aviation, L-3 Avionics Systems has taken enhanced vision-system technology developed for adjacent markets and made it affordable." Plans call for the IRIS camera to be offered as an aftermarket system as well. Visit
www.L-3Avionics.com/IRIS
to watch in-flight footage.
Page 2 of 4