Tuesday, April 20, 2010
June 2010 Readback
Top Stories
Evektor Celebrates 40 Years
Evektor-Aerotechnik Company of the Czech Republic is celebrating its 40th anniversary. More than 1,000 Evektor aircraft fly in over 40 countries worldwide. Evektor's P-220 UL ultralight was first produced in 1996, followed by the EV-97 Eurostar, which found its way into many flight schools and sport flying. In 2003, the Evektor Harmony trainer gained JAR-VLA type certification from the Czech CAA, followed by the EASA TC in 2005. That design evolved into the SportStar, the first S-LSA to be approved under the then-new FAA light-sport category. In 2008, Evektor introduced the EuroStar and SportStar SL, and last year, the company introduced the SportStar Max. Visit
www.evektor-aircraft.com
.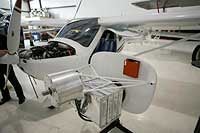 Green Flight Project Launched
Bye Energy, an integrator of alternative energy and renewable fuel technologies for aircraft, is launching the Green Flight Project to enhance the development of an electric and electric-hybrid propulsion system (EHPS) for commercial application. The objective is to design and integrate an EHPS into a full-scale proof-of-concept airplane. George Bye, CEO of Bye Energy, said, "Intelligent power-management technology, greater lithium-ion energy density and more efficient lightweight engines have now matured to the point where integration of these components becomes extremely compelling. We believe the GA market is at the same point the U.S. auto market was about a decade ago when the first affordable automotive hybrid alternatives became commercially available." Visit
www.byeenergy.com
and
www.thegreenflightproject.aero
.
Page 1 of 4