Tuesday, April 20, 2010
June 2010 Readback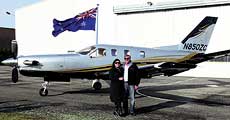 G1000 TBM 850 Down Under
Daher-Socata has delivered its first G1000-equipped TBM 850 to an Australian customer. Receiving the 2010 TBM 850 were Warwick and Katrina Hawksworth of Capstone Financial services. "We selected the TBM 850 after several years of marketing research, which determined that Daher-Socata's very fast turboprop was the best in speed, low operating costs and short-field operations," noted the Hawksworths. The Garmin G1000 became standard on the TBM 850 in 2008. Visit
www.daher.com
and
www.tbm850.com
.
Eclipse Selects SimCom
Eclipse Aerospace and SimCom Training Centers are partnering to provide pilot training for EA-500 owners and operators. Eclipse will relocate two EA-500 Level-D simulators to SimCom's training center in Orlando, Fla. Both simulators currently replicate the EA-500 and include the Avio integrated avionics system. Simulator training is scheduled to be available in the third quarter of 2010. Visit
www.simulator.com
and
www.eclipseaerospace.net
.
Transport Canada STC Expanded
Aspen Avionics announced an amendment to the Transport Canada STC that grants installation approval of the system in Canada. The amended STC enables all aircraft on Aspen's approved model list of more than 700 aircraft to install the Evolution PFD and MFD product lines. It also recognizes an FAA allowance to remove most mechanical backup flight instruments upon installation of Aspen's Evolution PFD and MFD with DuoSafe capabilities. Visit
www.aspenavionics.com
.
Loyalty Rewards From RAM Aircraft
RAM Aircraft offers Owner Loyalty Rewards for returning customers with RAM-engine-equipped Cessna 340, 340A, 414, 414A, 421C and Baron 58P/TC aircraft. Owners get a $2,500 discount off one engine order, and $5,000 off two engine orders. Rewards are available on engines shipped to FBOs for local installation or replacement engines installed at RAM in Waco, Texas. The rewards can be used toward upgrading your current RAM series engine package. Visit
www.ramaircraft.com
.
Seawind Begins Flight-Testing
After completing all the ground testing, the soon-to-be-certified Seawind 300C received its flight permit and took to the sky over Saint-Jean-sur-Richelieu, Canada, in mid-March. Seawind President Richard Silva said, "The pilots reported that the controls in pitch and roll were excellent. The powerplant and aircraft systems all worked as designed and as expected." After the debriefing, the Seawind was flown to Ottawa, where the full flight-testing program will be conducted. Visit
www.seawind.net
.
Page 2 of 4