Tuesday, April 23, 2013
June 2013 Readback
Solar Impulse To Fly Coast-To-Coast On Zero Fuel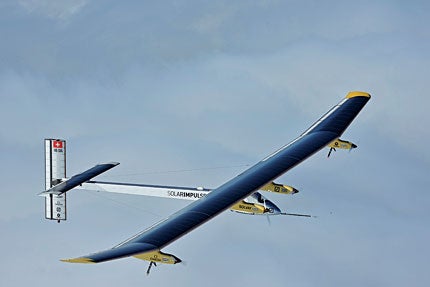 Bertrand Piccard and André Borschberg, the Swiss founders of Solar Impulse, announced that their solar-powered airplane will attempt a coast-to-coast crossing of the U.S. this spring without using a single drop of fuel. Solar Impulse will leave in early May from San Francisco's Moffett Airfield and stop in four U.S. cities, including Phoenix, Dallas/Fort Worth and Washington, D.C., before reaching New York's JFK airport, its final destination, in early July. This pioneering endeavor across the U.S. will be the last mission before attempting a zero-fuel around-the-world flight in 2015. Solar Impulse wants to inspire and motivate as many people as possible throughout its journey across America. "We want to show that with clean technologies, a passionate team and a far-reaching pioneering vision, one can achieve the impossible." said Piccard. "If we all challenged certitudes by driving change and being pioneers in our everyday lives, we can create innovative solutions for society's biggest challenges." The aircraft has a 208-foot wingspan and weighs 3,527 pounds. Visit
www.solarimpulse.com
.
Avidyne & ADS-B
Avidyne announced their support for the industry standardization effort ofthe ADS-B Capstone Data Interface Protocol for the display of traffic and weather services. The Capstone Data Interface Protocol is an RS-422/RS-232 data stream designed to support the display of ADS-B Traffic and Weather broadcast services that comply with the DO-282B and DO-317 standards for ADS-B IN. "Capstone was a development program in Alaska for ADS-B, a key technology that is enabling the NextGen air transportation system," said Patrick Herguth, Avidyne's COO. "We support the Capstone Data Interface Protocol, as it defines an industry standard for communication between ADS-B transceivers and displays, providing commonality and flexibility for our customers as they plan for the impending U.S. mandate." Visit
www.avidyne.com
.
Tecnam SNAP LSA
Tecnam will showcase its first single-seat aerobatic airplane, the SNAP, at AERO 2013 in Friedrichshafen, Germany. Created by Fabio Russo, Tecnam's Head of Research and Development, the single-seat low wing is available as an LSA. The standard engine is the 98 hp Rotax 912, but the Rotax 912is can be installed, as well. SportairUSA is the U.S. distributor. Visit
www.tecnam.net
. and
www.sportair.aero
.
Aspen Avionics NextGen Solutions
Aspen Avionics announced two new lines of NextGen products designed to give aircraft owners flexible and affordable options to meet the upcoming FAA ADS-B OUT equipment mandate, and to access the subscription-free weather and traffic services available from the ADS-B IN network. The introductions include a new certified NextGen product line and an expansion to the company's existing Connected Panel wireless cockpit technology. "Consistent with Aspen's design philosophy, these new products are open, compatible and designed to complement what aircraft owners already have in their panels," says Brad Hayden, Aspen's Vice President of Marketing. "In addition, these new solutions are optimized for our displays, giving Aspen customers even more value for their glass panel investment." Visit
www.aspenavionics.com
.
Eclipse Receives Full Production Certificate
Eclipse Aerospace received from the FAA an amended Production Certificate authorizing the final assembly, test and certification of the new production Eclipse 550 Twin-Engine Jet. In order to earn this amended Production Certificate, EAI demonstrated all assembly, quality, inspection, and flight verification processes required by the FAA. The original Production Certificate (PC) granted to EAI last year allowed Eclipse to manufacture the EA550 and requisite parts in compliance with FAA-approved type design, but required direct FAA oversight of the flight-test and certification phases. The amended PC now allows Eclipse to not only manufacture the EA550, but also to flight-test and grant airworthiness certificates for the aircraft under EAI's FAA- approved quality system. New production Eclipse 550 Twin-Engine Jets are scheduled to begin delivery in the third quarter of this year. Visit
www.eclipse.aero.com
.
Page 1 of 2