Monday, March 1, 2004
Mar-Apr 2004 On The Radar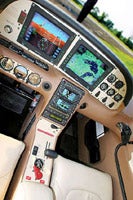 Going, Going Glass!
What began only a few years ago as a little more than a tease, glass cockpits have made their way to the general-aviation mainstream. Steam gauges are giving way to dream gauges. Upstarts Lancair and Cirrus were the first to show up with the big display screens in certified aircraft and neither has looked back. Last year, Cirrus announced it would sell only glass-paneled SR20 and SR22s, and immediately began shipping its aircraft equipped with the Avidyne Entegra. Lancair also offers similarly equipped Columbias. By Fall 2003, Cessna announced it had gone Garmin, offering the new G1000 glass panel in both Skylanes and Stationairs for the coming year. This month, Diamond begins deliveries of its composite four-place DA40, also with the Garmin glass, and New Piper Aircraft announced it's going to begin offering the Avidyne Entegra in its new 6X/6XT and Saratoga airframes. While other airframe manufacturers, like Mooney and Raytheon, haven't announced any final decisions, it's no longer a matter of if they'll go glass, but when.
Pilot reaction to the new cockpits has been strong across the board. Cessna sold out its anticipated first-year production run of the G1000-equipped C-182s. Cirrus has more than 150 glass-paneled aircraft on order. Even airplanes that aren't in production are announcing their commitment to glass. The in-development Cessna Mustang will go Garmin, as will the HondaJet and Diamond D-Jet; Adams Aircraft has sided with Avidyne for the A500 and A700, and so on.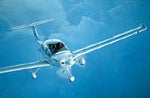 Diamond DA-40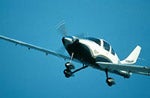 Lancair 400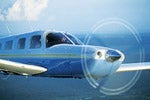 New Piper Saratoga II HP
However, the rapid embrace of both pilots and their partners in the manufacturing community has left a few loose ends. Engineers are still addressing lingering compatibility issues to allow existing autopilots, weather surveillance and data linking into these glass panels, but they also must allow for new technologies waiting in the wings, like Highway in the Sky (HITS), Synthetic Vision and more.
The rush of new technology is giving others fits—literally. The FAA's Industry Standardization (FITS) group is taking a hard look at the benefits and challenges that come with these new "technically advanced aircraft" (TAA). The group, made up from a who's who list of the aviation industry, is looking into creating voluntary standards of operation, and specifically operational training for the new wunderkind. Not surprisingly, the aviation insurance industry is a key player.
"It's the biggest new issue facing the new aircraft out there," says Avemco's chief underwriting officer Jim Lauerman. "We're on the cusp in this industry of some real breakthroughs and it's all around the avionics."
Although the recommendations of the FITS group are far from complete, Lauerman thinks one likely outcome is an insurance industry requirement for some form of approved training prior to underwriting. Although the FAA may stop short of writing new regs for the glass-cockpit crew, sound judgment (and probably your insurance company) will require some additional training.
Page 1 of 4