Monday, March 1, 2004
Mar-Apr 2004 On The Radar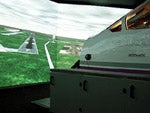 Stimulating Simulating
But the race for more and better personal transportation isn't limited to the pure jets. Demand for the larger twins and single-engine turbines has heated up as well, causing a boom in simulator training. SimCom just finished renovations in their Scottsdale, Ariz., facility to make room for a new "virtual" Pilatus PC-12. The company regularly conducts simulator flight training for Beech Barons, Dukes, Cessna twins, Socata TBMs, Aerostars, King Airs, Malibu/Meridian/Mirages, Piper twin drivers, as well as the who's who of major airliners. But the demand for virtual flying is no longer just for jet jocks.
SimCom used actual PC-12 airplane parts to make the turbine single's cockpit indistinguishable from the real McCoy. The panel is identical to the current production aircraft, with a Honeywell KMD-850, KLN-90B GPS and Garmin 530. The 180-degree wraparound visual-motion cueing system can reproduce just about anything you want, day or night, VFR and instrument meteorological conditions. The need for simulator training is big enough to support a second SimCom PC-12 simulator in Orlando, Fla., as well as pure jet, prop jet and piston training centers in Miami, Fort Pierce and Vero Beach, Fla.; Cincinnati, Ohio; Memphis, Tenn.; St. Louis, Mo.; Dulles, Va.; Minneapolis, Minn.; and Phoenix, Ariz. For more info, contact SimCom at (800) 272-0211 or log on to
www.panamacademy.com
.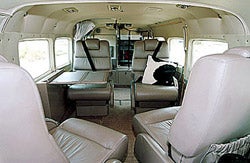 Cessna is reacting to the big interest in turbine singles by adding creature comfort to their wildly successful Caravan series. Suitors can include the Yingling Oasis interior when they order a new aircraft, adding first-class digs to an already impressive load-carrying capability. With leather and cabinetry, video screens for in-flight entertainment and AC power to run your laptop, the new STC for the Oasis interior pushes the C-208 out of the weight-lifting championships deep into executive/personal transport competition. Log on to Cessna's Website at
www.cessna.com
for more information.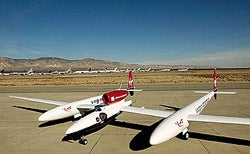 The Ultimate Single-Pilot Jet
Despite all the fanfare, there's a late entry in the category from aviation zeitgeist Burt Rutan that may just take the cake. The GlobalFlyer, a single-engine, one-person pressurized jet is designed to fly around the world nonstop, without refueling. The oddity measures 114 feet from wingtip to wingtip and is powered by a Williams Jet FJ44-3 ATW jet engine, drinking from 17 different gas tanks. Don't expect Rutan to accept your deposit for a delivery position quite yet. GlobalFlyer's raison d'etre is to provide billionaire Steve Fossett (think ballooning) a shot at yet another aviation world record. For more information, log on to
www.globalflyer.com
.
Page 3 of 4