Wednesday, March 1, 2006
Mar-Apr 2006 On The Radar

Sino Swearingen Aircraft Corporation is celebrating a well-deserved FAA certification for its SJ30-2 business jet. Approved for day/night/VFR/IFR single-pilot ops, the new speedster reports a cruise speed that exceeds 460 knots. Passengers will enjoy a sea-level cabin pressure all the way to FL410, and the SJ30-2's max altitude is another 8,000 feet higher. The "entry-level" jet will compete with the Cessna Citations and Raytheon Premier I. Sino Swearingen says that customer deliveries are forthcoming. For more, log on to www.sj30jet.com or call (949) 851-0900." />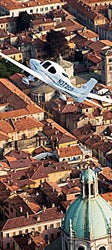 More Pistons Across The Pond
While lots of European aircraft are coming this way as new light sport aircraft, both Cirrus and Columbia Aircraft are digging in for a more vigorous run at the European aviation market. Their presence there is nothing new, but their effort to gain more market share abroad is.
Columbia Aircraft unveiled an international service center in Italy. The new facility, located in Parma Airport, will sell and support Columbia 350s and 400s. Cirrus announced a joint venture with U.K.-based Britten-Norman to "reassemble" the wings and tails of SR20s and SR22s so they can facilitate deliveries to European customers. Prior to this arrangement, aircraft were ferry-flown from Duluth, Minn., across Greenland and then Iceland. Britten-Norman already manufactures the Islander, Trislander and Defender 4000. Cirrus also announced that it's developing a presence in Shanghai, China.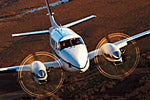 Blackhawk King Air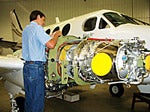 King Air upgrade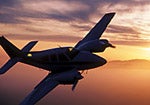 Beech Baron
Blackhawk XP Upgrade
Blackhawk Modifications announced that the European Aviation Safety Agency (EASA) has approved the installation of the Blackhawk XP upgrade on the Beechcraft King Air C90A/B. This new STC approval, along with Blackhawk's existing STC approval in the United States and Brazil, contributes to Blackhawk Modifications' stake as one of the world's leading Pratt & Whitney non-OEM engine sales companies.
The Blackhawk XP gives the C90A/B an approximate true airspeed increase of over 35 knots. Takeoff and climb performance are also greatly improved, especially from high-altitude airports. Available for the King Air C90A/C90B/E90 and the Cessna 425, the Blackhawk XP is a simple, bolt-on upgrade. The existing engines are exchanged for two factory-new 750 shp Pratt & Whitney PT6A-135A engines along with Pratt & Whitney's exclusive 1,000-hour, no-calendar-limit engine warranty. No airframe modification is necessary. Contact Blackhawk at (254) 755-6711 or visit
www.blackhawk.aero
for a list of distributors near you.
Yes, But Do You Have A Rocket Baron?
Rocket Engineering, the folks who last year brought you a turbine Duke to complement their very successful Malibu JetProp, now have Beech Barons in their sights. The company announced its intent to certify retrofitted P-Barons to fly with PT6s on their wings. Company calculators indicate a projected speed near 305 knots and an initial climb rate of almost 4,500 fpm. For more, contact Rocket Engineering at (509) 535-4401 or
www.rocketengineering.com
.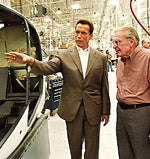 Arnold Visits Robinson
Governor Arnold Schwarzenegger's visit to the Robinson Helicopter Company, the largest civilian helicopter manufacturer in the world, further demonstrated RHC's status as a prime example of California's aerospace acumen. The "Governator" recently toured the newly constructed 220,000-square-foot main building in Torrance with RHC namesake Frank Robinson.
RHC just announced the new "heads-up" pilot-side console available on its R44 Raven 1 and II. Set just above the pilot's feet, the console puts a Garmin GPS in the pilot's view, eliminating the need to look at the center instrument cluster before looking back outside. The new option can be ordered in three configurations: GPS, GPS/COMM or GPS/COMM/NAV. For more, contact RHC at (310) 539-0508.
Page 3 of 3