Thursday, March 1, 2007
Mar-Apr 2007 On The Radar

To mark the 75th anniversary of Beechcraft and the 60th anniversary of the Beechcraft Bonanza, Raytheon Aircraft Company is rolling back prices on 2007 Beechcraft Barons and Bonanzas." />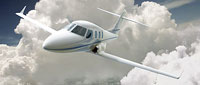 Diamond Jet Hits The Road
As Diamond's new single-engine jet continues flight-testing and development, the full-scale cabin mock-up of the D-JET, featuring the jet's complete avionics suite and luxurious five-place cabin, is hitting the roads on a tour of North America.
The D-JET has a Garmin G1000 glass cockpit suite and offers generous, first-class comfort for five, while scooting along at its 25,000-foot ceiling at 315 knots.
At this writing, second quarter 2008 is the target for type certification. The proof-of-concept aircraft is flying and making daily progress. Serial number 002 is under construction and will join the flight-test effort in 2007's second quarter. A total of four aircraft will be involved in the certification process.
Based on the numbers of orders Diamond has booked thus far, a new retail customer can expect delivery late 2009 or early 2010. Diamond plans to produce and deliver 200 D-JETs annually. Check out
www.diamondaircraft.com/news
for the updated schedule.

Columbia Debuts New Model For 2007, Sets Delivery Record
Columbia Aircraft has introduced new paint schemes as well as new standard and optional features for its 2007 product line. The multitude of colors and combinations available to Columbia customers reflects its penchant for show-car-quality paint and detailing. Three new schemes are available: two for the 400 model (the "Cascade" and "Classic" themes) and one for the model 350 (the "Vernal" paint scheme). Fees for custom paint colors have been eliminated.
To supplement the previously standard wing and leading-edge protectant, Columbia is adding that same protective film to the wheel pants and nosegear strut at no extra charge.
New standard features inside the luxurious cabin include the addition of an integral cup holder/approach plate holder, headset hanger/flashlight holder and a map pocket. Also new are two-position rudder pedals and custom-fit seat height adjustment capability, courtesy of Oregon Aero SportSeats.
Page 2 of 5