Thursday, March 1, 2007
Mar-Apr 2007 On The Radar

To mark the 75th anniversary of Beechcraft and the 60th anniversary of the Beechcraft Bonanza, Raytheon Aircraft Company is rolling back prices on 2007 Beechcraft Barons and Bonanzas." />
In another industry first for Columbia, new aircraft in SL and SLX trim will be available with a remote keyless entry system, previously only available on the 2006 Columbia 400 LCE (Limited Commemorative Edition). The keyless entry system unlocks the pilot-side door and activates the interior cabin lighting and exterior step lighting at the press of a button.
Columbia Aircraft also set a delivery record in 2006. Despite delays in the certification of their Garmin G1000 installation and a torrential hailstorm that delayed the refinishing of more than 60 aircraft, the company delivered 185 aircraft in 2006. To see how much more like a luxury automobile an aircraft can be, click over to
www.flycolumbia.com
.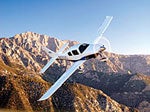 With a 4-to-1 membership-to-aircraft ratio, iFly puts an emphasis on high availability. "Now more than ever, personal aircraft travel has the ability to transform your lifestyle," commented founding partner Erik Lindbergh, grandson of Charles Lindbergh. "You can go where you want to go when you want to go."
The aircraft fleet is based at six FBOs in Southern California, and there are plans to expand on a national level. Equipped with Garmin G1000 avionics, the Columbia 350s cruise at 191 knots and have a range of 1,300 nm. To learn more, visit
www.iflysmarter.com
.
There's yet another way to become a Cirrus pilot, as well. iAviate in Virginia has launched a new ownership program that offers fractional share (from 1⁄8 to 1⁄2), partnership and lease options in new Cirrus SR22-GTS aircraft. Ownership burdens are taken care of for participants, who'll also benefit from a comprehensive training program run by factory-certified instructors. Three aircraft have already been delivered to iAviate, with 12 more on the way. To learn more, visit
www.iaviate.aero
.
Page 3 of 5