Thursday, March 1, 2007
Mar-Apr 2007 On The Radar

To mark the 75th anniversary of Beechcraft and the 60th anniversary of the Beechcraft Bonanza, Raytheon Aircraft Company is rolling back prices on 2007 Beechcraft Barons and Bonanzas." />

Blackhawk Delivers 100th XP Engine Upgrade
Waco, Texas-based Blackhawk Modifications recently announced the delivery of its 100th XP engine upgrade. Number 100 was installed on a King Air F90.
Blackhawk specializes in upgrading turboprop aircraft engines and focuses its efforts on converting King Air 90 and 200 series aircraft, as well as the Conquest I and Cheyenne series twins.
In October 2006, Blackhawk received FAA approval to upgrade the King Air F90 series with the more efficient Pratt & Whitney PT6A-135A engines. The price for the modernized, factory-new engines is in line with the cost to overhaul the old-generation engines. The added assurance of a 1,000-hour factory warranty coupled with a solid speed increase of 15 knots makes the upgrade especially attractive. For more, log on to
www.blackhawk.aero
.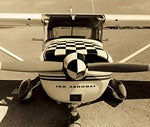 In Memoriam: Bill Kerchner
Bill Kershner, the legendary flight instructor and well-known author of flight-training manuals, died at home on January 8, 2007. Kershner garnered many awards and honors during the course of his career and was inducted into the Flight Instructor Hall of Fame at Oshkosh, Wis., in 1998.
While Kershner is well known for his popular and best-selling series of training manuals, with more than one million sold, he's also a widely respected authority on aerobatic and spin training, having amassed more than 4,300 hours of aerobatic instruction and more than 8,000 separate spins of up to 25 turns. In lieu of flowers, memorial contributions may be made to the William and Elizabeth Kershner Scholarship Fund at the University of the South, the Smithsonian Air & Space Museum in Washington, D.C., or the Tennessee Aviation Museum in Sevierville, Tenn. Another option is to take someone who has never flown before up in an airplane.
Page 4 of 5