Thursday, March 1, 2007
Mar-Apr 2007 On The Radar

To mark the 75th anniversary of Beechcraft and the 60th anniversary of the Beechcraft Bonanza, Raytheon Aircraft Company is rolling back prices on 2007 Beechcraft Barons and Bonanzas." />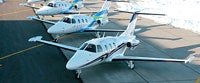 Eclipse Delivers
With more than 2,500 aircraft ordered and on backlog, it must feel great to get one out the door. Indeed, at least seven other aircraft have completed final assembly and are being prepared for delivery, and another 37 airframes are on Eclipse's production line in various stages of assembly. The first customer Eclipse 500 was delivered to co-owners David Crowe, a private owner, and Jet-Alliance, a shared jet ownership company in Westlake Village, Calif. While Crowe plans to use his time with the jet primarily for recreation, Jet-Alliance will be using it to serve the needs of its growing list of co-ownership clients.
Eclipse is poised to begin ramping up production rates. The company is leveraging advanced manufacturing methods not traditionally used in aviation to dramatically increase manufacturing efficiency. These include proven automotive manufacturing techniques, such as moving assembly lines and robotics. The company's current facilities are designed to support the production of approximately 1,000 aircraft a year, or four aircraft per day.
"For many years, the promise of this day has fueled the passion and perseverance of everyone associated with Eclipse," said Vern Raburn, president and CEO of Eclipse Aviation. "Today, as we deliver the first Eclipse 500, our dream of opening up the world of private jet travel to a new realm of customers has become a reality." To see the Eclipse in action, log on to
www.eclipseaviation.com
.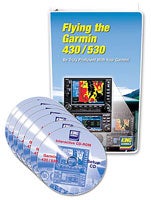 The Kings Teach The Garmin 430/530
With the King Schools
Flying the Garmin 430/530
interactive video course, pilots will gain mastery of the Garmin 430 and 530.
According to John King of King Schools, "The course has hundreds of video lessons that demonstrate how to use the 430/530. These are followed with interactive questions, many using the King built-in procedures trainer that lets you practice what you just learned."
The course covers all aspects of the Garmin 430/530, including moving maps, flight plans, course reversals, missed approaches, system customization and how to handle possible 430/530 malfunctions.
Flying the Garmin 430/530
contains seven CD-ROMs and runs approximately four hours before interactive questions. To learn more, literally, visit
www.kingschools.com
.
Sierra Industries Breaks Its First Stallion
Based on the Cessna Citation 500/501SP, the Sierra Industries Stallion is the latest iteration of Sierra's Citation product improvement program. The Sierra Stallion enjoys the added power and smoothness of the Williams FJ44 engine, but retains the thinner, classic wing of the Citation I. Increased performance allows pilots to climb directly to 43,000 feet and realize enhanced fuel specifics, about 620 pounds per hour, increased range and, with new electronic engine management, greatly simplified operation.
First delivery of this new model was in December 2006; the new owner immediately flew his new steed from Sierra's base in south-central Texas, nonstop to Calgary, Canada, at 43,000 feet in less than four and a half hours against an average headwind of 22 knots. This flight was a dramatic demonstration of the enhanced range and speed of the FJ44 Stallion modification. To mount up, mosey on over to
www.sijet.com
.
Page 5 of 5