Saturday, March 1, 2008
March 2008 Readback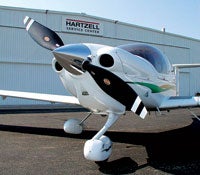 New DA40 Props
Hartzell Propeller received an STC permitting the installation on Diamond DA40 aircraft of two new propellers: a 76-inch, two-blade ASC-II composite-blended airfoil design and a 74-inch, two-blade aluminum-blended airfoil design. In addition to the new propellers, the STC also permits the use of Hartzell's new S-1 series propeller governor. The aluminum propeller kit prices at $7,495, and the ASC-II composite propeller kit lists for $11,295. For more information, go to
www.diamondaircraft.com
and
www.hartzellprop.com
.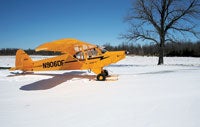 Legend Cub On Skis
American Legend's Legend Cub can now be fitted with Trick Air skis. "Our model 1500 is well-suited to the Legend Cub," stated Trick Air President Rick Discher. "Its wheel penetration design allows ease of installation without lifting the airplane. It skirts the wheel and is shaped like a wing to reduce drag." View
www.legend.aero
and
www.trickair.com
.
Tempest
Tim Henderson, President of Aero Accessories, and others involved in the manufacture of the Tempest brand of general aviation products and Precision Airmotive have reached a tentative agreement to acquire Precision's MSA line of carburetors and spare parts. Immediate plans for the product line are to continue to produce the carburetors and parts as Precision has in the past. The long-term strategy will be to integrate the product line into engineering and R&D programs. Visit
www.tempestplus.com
.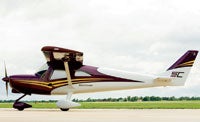 China Builds
Cessna Aircraft announced a partnership with Shenyang Aircraft Corporation (SAC) to manufacture the new Model 162 SkyCatcher LSA. Cessna will design the aircraft, handle ASTM-compliance work, and provide on-site personnel to oversee the manufacturing process. SAC will be responsible for assembling the aircraft. The first flight of the prototype SkyCatcher is set for the first half of 2008, and deliveries are expected to begin in the second half of 2009. Cessna expects to produce up to 700 a year at full-rate production. Visit
www.cessna.com
.
Liberty Aerospace and Anyang Angel Aero Science and Technology Development announced the construction of a new factory at the Anyang Airport in Henan to manufacture 600 Liberty XL2 aircraft for use in China. This number is expected to increase to 800 in anticipation of the opening of the air space in 2010. Learn more at
www.libertyaircraft.com
.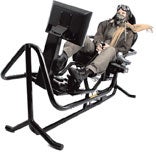 DreamFlyer
The DreamFlyer, a personal flight simulator by Canada-based FMS Flight Motion Simulators, was the recipient of the Consumer Electronics Show 2008 Innovations Honor Award in the Electronic Gaming category.
"Designing a highly advanced flight motion simulator at a reasonable price opens up a whole new market for flight-simulator enthusiasts, gamers and pilots," remarked FMS Flight Motion Simulators CEO Rahul Lakhote. Purchase yours at
www.mydreamflyer.com
.
Page 2 of 3