Saturday, March 1, 2008
March 2008 Readback

IFR Training
All pilots must practice instrument procedures as part of their training curriculum. This is usually accomplished by wearing a view-limiting device to restrict vision to the instrument panel, which prevents pilots from looking outside the cockpit for visual references to attitude and location. ASA's Hoodwink automatically springs open when it's removed from its pouch and packs away for storage with a simple twist. It's lightweight, yet durable enough to withstand the rigors of daily use. The compact (4x4-inch) slim pouch is small enough to fit in a shirt pocket or in almost any flight bag compartment. The device can be used with or without headsets. One size fits all, and pilots will love its comfortable, unobtrusive functionality. For more information, contact ASA at (800) 272-2359 or
www.asa2fly.com
.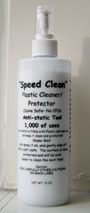 Speed Clean
Plastic surfaces are found everywhere: kitchens, autos, watercraft, watches, airplanes…the list goes on. A safe way to clean any plastic surface, Speed Clean leaves a unique "velvety smooth," anti-static finish that makes a surface even easier to clean the next time around. Just spray it on, let it work and gently wipe with a soft cloth (stay away from scratch-inducing paper towels). Cleaned surfaces remain free of static and dust for weeks. The nonaerosol bottle is suitable for carrying in an airplane. For more, contact Dan's RC Stuff at (818) 700-6912 or
www.speedclean.us
.

Stop Engine Corrosion
All engines develop moisture between flights. The Tanis Engine Dehydrator reduces damaging moisture by keeping a closed loop of ever-drier air circulating. If you don't fly weekly, the humidity level in your crankcase could be as high as 98%. When run continuously, the Dehydrator can reduce the humidity to less than 10%. An LCD screen displays humidity and temperature for easy monitoring. The dehydrator runs on 110 V and weighs only 13 pounds when full. For more, contact Sporty's at (800) SPORTYS or
www.sportys.com
.

The Symbol Of The Perfect Flight
Josten's, a provider of products, programs and services that celebrate important moments and accomplishments, offers rings for those who know the compulsion to fly. The Pilot's Ring Collection features many options for customization, including special add-ons designed to symbolize a pilot's unique achievement in the aviation field. Whether you're a helicopter pilot or a private pilot, you can design a ring to your tastes and achievements. To learn more, contact Josten's at (800) 433-5671 or
www.pilotrings.com
.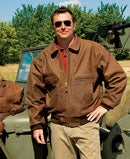 Stay Warm, Look Good
Now a classic aviator-style flight jacket is available in water buffalo leather, a unique material renowned for its durability, warmth and great looks. Sporty's rugged Safari Jacket is crafted from nearly eight pounds of water buffalo leather that has a "battle-scarred" look and a velvety soft feel. Modeled on the famous Navy G-2 jacket from WWII, the Safari Jacket is ideal for even the coldest days. The jacket features a high-quality cotton lining, a heavy brass zipper with leather pull tab, wool cuffs and waistband, side-entry handwarmer pockets, an inside snap pocket and top-entry zip pockets. For more information on the Safari line of products, contact Sporty's at (800) SPORTYS or
www.sportys.com
.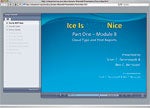 Weather Skills
Ice Is NOT Nice
, a two-part training CD produced by Chesapeake Aviation Training, is a critical tool for any IFR pilot. Part 1 consists of nine modules with more than 100 slides (2 hours and 36 minutes); it describes the underlying factors behind structural icing and the weather products that can be used to deal with icing. Part 2, available in July, applies knowledge from Part 1 in a scenario-based method. Purchase each part individually or as a pair. For more, contact Chesapeake Aviation Training at (803) 802-2591 or
http://chesavtraining.com
.

Magnetic Vacuum Pump Wrench
Tempest recently released a vacuum pump wrench to complement its line of "mechanic friendly" specialty tools. The AA716 wrench includes a magnet that holds the washer in place, making the installation of the vacuum pump nuts much easier. Vacuum pump installation can be difficult because of its location and restrictions from other engine accessories. The reasonably priced wrench will reduce installation time and therefore labor costs. For more information about Tempest products, please call (800) 822-3200 or
www.tempestplus.com
.
Page 3 of 3