Thursday, May 1, 2008
May 2008 Readback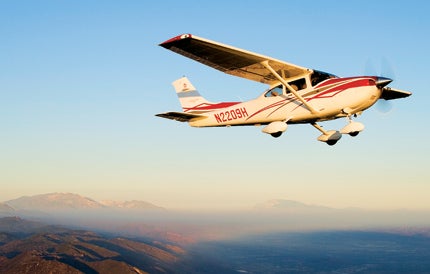 Sky-High Industry Billings In 2007
The General Aviation Manufacturers Association (GAMA) announced that the 2007 year-end shipment figures for the general aviation industry have led to another record high in industry billings. At the organization's Annual Industry Review and Market Outlook Briefing, GAMA Chairman and Cirrus Design CEO Alan Klapmeier reported that a strong worldwide market, especially outside of North America, was a driving factor for general aviation in 2007. "As these economies continue to expand, we expect general aviation to play an ever-increasing role in these regions," Klapmeier stated. "Manufacturer backlogs are strong and we think this bodes well for 2008 and the years beyond."
Record industry billings totaled $21.9 billion, up by 16.5% from last year. Year-end, worldwide shipments of general aviation airplanes totaled 4,272 units, up 5.4% over the previous year's total of 4,053 units. The industry also experienced an all-time high in business jet shipments, delivering more than 1,000 units for the first time in history.
The piston airplane segment was down 2.9% in 2007, but still posted the second-best year in more than two decades. Total units decreased from 2,755 in 2006 to 2,675 in 2007. Shipments of turboprops increased 11.4%, up from 412 units in 2006 to 459 units in 2007. Business jet shipments reached an all-time high of 1,138 units, up 28.4% over last year's figure of 886 airplanes. For additional details, visit
www.gama.aero
.

Adam Aircraft: Bankrupt
On February 15, Adam Aircraft filed Chapter 7 bankruptcy in the U.S. Bankruptcy Court for the District of Colorado. The start-up piston twin and VLJ manufacturer had ceased operations four days prior at its facilities in Englewood, Colo. A statement on Adam's website read, "This measure was required due to the inability of the company to come to terms with their lender for funding necessary to maintain business operations." In the filing, Adam Aircraft lists more than 200 creditors, $50 million to $100 million in liabilities, and between $1 million and $10 million in assets that include the type certificate for the A500 piston twin, several A500s in various stages of production and three flying A700 VLJs.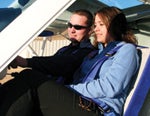 New Sport-Pilot Training Program

U.S. Flight Academy has launched a program for those who have passed the written exam for a sport-pilot license. Priced at $3,783, the course includes 21 hours of flight training in a Remos LSA and 28 hours of ground school. This can be completed in as little as 10 days. "Our intent is to make it easy for anyone to earn their license quickly and go home as a sport pilot," said President Mike Sykes. The Academy also has programs to upgrade sport pilots to private pilot status. For more information, visit
www.usflightacademy.com
.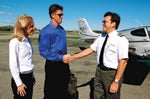 Hopscotch Air
This spring, Hopscotch Air plans to debut its new "air limo" service in the Northeast. The company will fly customers to hundreds of airports within 500 miles of the New York metropolitan area, including Westchester, Long Island, New Jersey and Connecticut. Service will be on-demand, in the technologically advanced Cirrus SR22. Book your flight at
www.flyhopscotch.com
.
Page 1 of 3