Thursday, May 1, 2008
May 2008 Readback
Mooney Acclaim Record
On January 26, 2008, Alex Coley and his flight instructor Tim Wadsworth flew Alex's Mooney Acclaim from Lindbergh Field in San Diego, Calif., to Craig Field in Jacksonville, Fla., in just 6 hours and 59 minutes. This set a transcontinental flight record, as well as a record over a recognized course between the two cities. Coley and Wadsworth averaged more than 305 mph and achieved a top speed of 412 mph during the flight, which included a quick 12-minute fuel stop at Mooney's home airport, Louis Schreiner Field in Kerrville, Texas. Learn more at
www.mooney.com
.

F-22 At Oshkosh
The Lockheed F-22 "Raptor," one of the world's most advanced military jets, will return and fly during EAA AirVenture Oshkosh 2008. Two of the airplanes will arrive at Wittman Regional Airport with an aerial performance on July 31, and at least one aircraft will fly an aerial demonstration each afternoon on Friday through Sunday, August 1 to 3. Plan your trip at
www.airventure.org
.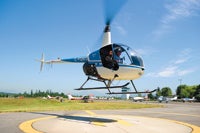 Robinson & Mid-Continent
Robinson Helicopter Company selected Mid-Continent Instruments as the primary supplier for flight-instrument technology, and upgraded to the 4300 Electric Attitude Indicator. "We're proud to be a key partner with our friends at Robinson," said Mid-Continent Western Region Manager Matt Fowle. "The 4300 and 3300 are vastly improved indicators that are perfect for mission-critical helicopters like the R22 and R44. Both the 4300 and 3300 can be used as aftermarket replacements for the original legacy gyros shipped from the Robinson factory." Learn more at
www.robinsonheli.com
and
www.midcontinentinstruments.com
.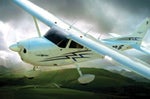 Cessna In India
Cessna Aircraft Company announced an order from Chimes Aviation of Madhya Pradesh, India, for 20 Cessna 172 Skyhawks, which will be used for flight training. The order includes 11 C-172Rs for immediate delivery and nine turbodiesel models for delivery later this year. Visit
www.cessna.com
.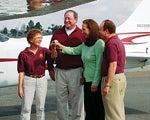 King Schools Sweepstakes
Dale North of Madison, Tenn., was the lucky winner of a Cessna 172S Skyhawk with a G1000 panel in King Schools' "The Future Is Now" airplane sweepstakes. "Wow! I bought a King Commercial Pilot Knowledge Test Course for my husband, Phillip, as a birthday present and won an airplane," exclaimed Dale. "Now, I'm going to learn to fly." The King's next sweepstake prize will be a Cessna 172S with a G1000 panel plus a Garmin GFC 700 autopilot. Visit
www.kingschools.com
.
Gone West: Frank N. Piasecki, 88
Frank Nicolas Piasecki, the holder of numerous aviation patents, including the twin-rotor technology, died at the age of 88. His work led to the development of the Chinook helicopters, used by the military in Vietnam and commercially for logging and construction. He's survived by his wife, Vivian, seven children and 13 grandchildren.
Page 2 of 3