Thursday, May 1, 2008
May 2008 Readback

Product Previews
Watches For Women
With Abingdon Watches, Chelsea "Juice" Welch, a Santa Monica, Calif.–based pilot, has launched the first company dedicated to developing top-quality, realistically priced watches to meet the needs of female pilots, mechanics and adventurers all over the world. Abingdon offers two watch models: the Amelia and the Jackie. With a stainless-steel band and mother-of-pearl face, the Jackie watch also features a chronograph, date window and E6B function. The Amelia has similar features and a leather band. For more information, contact Abingdon Watches at (310) 736-5673 or visit
www.abingdonwatches.com
.

A Full-Sized Bike That Folds
Montague SwissBike's new line of full-sized, high-performance bikes feature patented technology that allows them to fold in half for easy storage and transport. Originally developed to allow military paratroopers to airdrop with a mountain bike, the bikes are ideal for cyclists who need a full-sized mountain bike but also have storage, commute or travel constraints. The flagship SwissBike XO is suited for all terrains and demands. The LX and TX models are for less-intense uses and are for riders on a budget. For more information, contact Montague Bikes at (800) 736-5348 or
www.swissbike.com
.

High-Wind Protection
For pilots who can't hangar their airplanes, any inclement weather presents an opportunity for a damaged aircraft. AeroSpoiler is a lift-reduction system used to protect aircraft parked outside in high-wind conditions, including thunderstorms, tornadoes and even hurricanes. PVC sheets in the shape of Venetian blind slats are held in place on the aircraft wing via commercial-grade suction cups, which can withstand winds above 200 mph. Each AeroSpoiler Kit has 10 suction cup/receiver assemblies and eight 30x3-inch blades. The complete kit provides 20 feet of wing coverage and can reduce the lift-producing capability of an aircraft wing by as much as 96%. Installation takes just minutes. Constructed of injection-molded ABS and thick PVC sheets with marine-grade stainless-steel hardware, AeroSpoilers will last for years, even in harsh, coastal environments. For more information, contact Sporty's at (800) SPORTYS or visit
www.sportys.com
.

Ground-Isolated Battery Eliminator
The QC Avionix 2 AA cell floating battery eliminator was designed for contemporary noise-canceling headsets, such as the Lightspeed Zulu, and other devices where isolation from vehicle ground is required or where excessive ground noise may be an issue. It's powered directly from a 12-14 volt or 24-28 volt accessory jack. It's the only battery eliminator that will work with the Lightspeed Zulu headsets. It comes with an active/powered cell and one dummy cell that plug directly into the battery slots. The power cable is routed out of the battery receptacle to the regulator box. An emery board, supplied, can be used to file a small slot in the battery cover to accommodate the power cable. Plug the battery eliminator into your cigar/accessory jack, and you're all set to go without fear that the battery will go dead at a critical moment when aviating, navigating and communicating are your highest priorities. For more, contact QC Avionix at (978) 897-3891 or
www.qcavionix.com
.

Conquer The Night
FLITELite Generation II is a hands-free pilot light that's 30% smaller than its previous incarnations. It includes two completely sealed sensors that link to a microprocessor to offer a pilot ultimate lighting control. The LiteSelect memory feature allows for fully controllable dimming and brightening. Multiple colors are available. FLITELite custom fits to match your headset or helmet microphone for a perfect fit; there's now a custom adapter to fit the wire on your aviation helmet that positions the on/off sensor exactly where you need it. No tie wrap is required; just snap the FLITELite into the adapter, then attach the adapter to your mic boom. For more information, contact FLITELite at (877) 579-8853 or visit
www.flitelite.com
.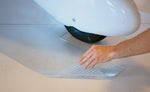 Protect Your Floor
The Ribbed Aircraft Drip Mat is an inexpensive, customizable drip mat that blends durability and portability. Dirty engine fluids can wreak havoc and turn a spotless hangar into an eyesore. This drip mat will protect your hangar floor by collecting any fluids that drip from your airplane. The 3x5-foot drip mat can easily be trimmed to fit any size nosewheel. The ribbed design prevents fluids from pooling, and the 100% polyvinyl construction material withstands all aviation-grade fluids. It can be washed and used again and again. It also rolls up for easy storage. For more information, contact Sporty's at (800) SPORTYS or visit
www.sportys.com
.
Page 3 of 3