Tuesday, March 23, 2010
May 2010 Readback

Top Stories
Lindbergh Foundation Donates Husky
On January 29, the Lindbergh Foundation held a ceremony to formally donate a factory-new 180 hp A-1C Husky to the Kenya Wildlife Service (KWS) at the KWS Wilson Hangar in Nairobi, Kenya. Lindbergh Foundation Chairman, President and CEO Larry Williams said, "I believe the Lindberghs would be proud that the foundation carrying their name is supporting the work of the Kenya Wildlife Service to help spot and discourage poaching of Kenya's precious wildlife resource." In addition to handing over the Husky's keys, the foundation sponsored a five-day training session for the KWS air patrol pilots, which was
led by Patty Wagstaff, Dr. Richard Sugden and Steve Phillips of Teton Aviation.
In March 2010, the first Lindbergh Prize will be unveiled at an event on the U.S. West Coast. The Lindbergh Prize is intended to stimulate innovative solutions to social, technical and environmental problems. Visit
www.kws.org
,
www.lindberghfoundation.org
and
www.lindberghprize.org
.
Aspen STCs
Aspen Avionics' EFD1000H has received STC approval for installation in Bell 206 and Bell 407 helicopters. The STC was developed in partnership with Keystone Helicopter. Aspen also has partnered with Chippewa Aerospace to develop an STC for installation of the EFD1000H Pro PFD, EFD1000H MFD and EFD500H MFD on Robinson R22 and R44 and Eurocopter AS350 and AS355 helicopters. Additionally, Aspen has added more aircraft to its FAA Approved Model List for the EFD1000. To see the complete model list, visit
www.aspenavionics.com
.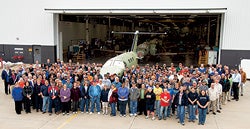 300th Citation Mustang
Less than three years after the first Mustang delivery in 2007, Cessna rolled out its 300th Citation Mustang at its assembly facility in Independence, Kans. "The aircraft continues to set the mark for entry-level business-jet operations around the world, and its demand has remained fairly resilient during the past year," said Cessna CEO Jack Pelton. The 300th Mustang will be delivered later this year to a retail customer in Australia. Visit
www.cessna.com
.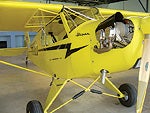 First International Texas Sport
American Legend announced the completion of its first international delivery of a Texas Sport aircraft kit. Delivered to Brazil in early 2009, the kit was assembled by Flyer Indústria Aeronáutica of Sao Paolo. The new owners took 10 months to complete the construction. Visit
www.flyer.com.br
. and
www.legend.aero
.
Cirrus & Red Bull
Cirrus Aircraft and Red Bull Air Race have announced a global partnership for the 2010 World Championship. At worldwide Red Bull Air Race events in 2010, guests attending in either the Race Club or the High Flyer's Lounge will have special access to both the SR22 series and the upcoming Cirrus Vision jet. Cirrus CEO Brent Wouters noted, "The Red Bull Air Race World Championship represents a passion for precision and performance in aviation. These same attributes are shared by Cirrus Aircraft, its employees and thousands of Cirrus owners and pilots around the world." Visit
www.cirrusaircraft.com/airrace
.
Page 1 of 3