Tuesday, March 23, 2010
May 2010 Readback
PRODUCT PREVIEWS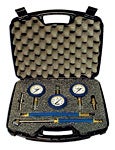 Check Tire Pressure
Tool Testing Lab's customizable Three-Piece Tire Gauge Kit includes three heavy-duty, brass-body analog gauges. Angled and straight chucks with flexible hose handles allow positive readings of virtually all pneumatic wheels and tubes filled with air or other inert gases. Choose from three separate styles of tire chucks: straight (with or without a hose) or dual-foot. A tread-depth gauge also is included. Contact: Tool Testing Lab, (937) 898-5696,
www.ttlcal.com
.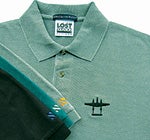 P-38 Polo Shirts
A classic P-38 Lightning silhouette is embroidered on Lost Squadron's heavyweight, pigment-dyed, 100% cotton Pique Polo/Golf Shirt. The preshrunk and ring-spun shirts are incredibly soft, and the pigment-
dyed pique develops easygoing character through repeated wear and washings. Additionally, the dye process infuses each garment with a unique appearance. Contact: Lost Squadron, (888) 977-5678,
www.lostsquadron.com
.

Look Sharp!
The AOPA Leading Edge Jacket offers exceptional comfort and modern styling. The lightweight, breathable construction is complemented by a durable wind- and water-resistant exterior and fleece interior. A zip chest pocket is ideal for storing a cell phone or iPod. Contact: Sporty's, (800) SPORTYS,
www.sportys.com
.

Border Crossings Made Easy
Developed by Lobo Labs, Flash Pass Net provides a more efficient alternative to Customs and Border Protection's eAPIS (Electronic Advance Passenger Information System), which requires pilots to file online manifests prior to crossing U.S. borders and carries heavy fines for incorrect information. Flash Pass Net enables pilots to comply with eAPIS rules by storing information and providing safeguards to eliminate common mistakes. Contact: Lobo Labs,
www.flashpass.net
.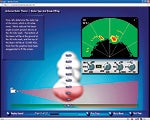 Become An Airborne
Radar Expert Sporty's online Airborne Radar Training Course features narrated learning modules to explain the complex principles of thunderstorm formation, radar theory and radar operation. Hands-on interactivity, a hard-copy study guide and review quizzes combine to educate pilots of all skill levels. Contact: Sporty's, (800) SPORTYS,
www.sportys.com/radar
.

New Premium Headset

Beyerdynamic's unique HS 600 DANR Executive aviation headset is an upgraded version of its popular HS 600 DANR. Featuring glossy wood earcups, a leather headband and soft, viscoelastic-filled ear seals, the headset has a lacquer-coated audio box to which phones or MP3 players can be connected. The DANR headset has a fast microprocessor with a Beyerdynamic-developed software algorithm, eliminating pressure and sealing out cockpit noise. Contact: Beyerdynamic, (800) 293-4463,
www.shop.beyerdynamic-usa.com
.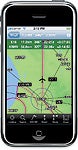 WingX On Your iPhone

Hilton Software's WingX for iPhone Version 3.6 combines high-quality, animated DUATS weather images with improvements in efficiency. WingX 3.6's GPS-enabled, terrain-aware moving map displays Class B, C, D and special-use airspaces. Pilots can view the airspace's altitude range and other pertinent information. WingX 3.6 integrates Yelp information with the AOPA Directory to provide hotel and restaurant addresses, maps, photos and customer reviews. Contact: Hilton Software, (866) 42-WINGX,
www.hiltonsoftware.com
.

A Great Audio Panel, Improved

PS Engineering introduces its PMA8000B-Silver Edition, which improves on its flagship audio panel. Monitor mode will enhance the IFR approach environment, eliminating the need to decipher two simultaneous radio receptions. Multiple music muting modes allow pilots to decide, on the fly, how music will mute. Other enhancements are user-selectable telephone sidetone and music for the pilot while in ISO mode. Contact: PS Engineering, (800) ICS-AERO,
www.ps-engineering.com
.
Page 3 of 3