Tuesday, March 22, 2011
May 2011 Readback
Cirrus Acquired By Chinese Company
Top Stories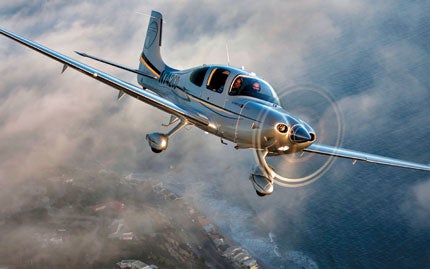 In a milestone development, Cirrus announced that Cirrus Aircraft will be sold to China Aviation Industry General Aircraft Co. (CAIGA). The decision to merge with, and then be acquired by the Chinese aerospace firm, is partially motivated by Cirrus' need for more funding to further develop their single-engine personal "Vision" jet, a project that Cirrus CEO and president, Brent Wouters, says will cost a total of about $140 million dollars. Cirrus has spent about $60 million on the jet at this point. Discussions between Cirrus and CAIGA began in 2009, and the deal will be finalized in mid-2011, once regulatory approvals have been secured. Despite concerns about lost jobs and quality control issues if the company were to move its manufacturing facilities out of its current location in Duluth, Minn., Wouters says Cirrus is committed to keeping everything status quo. "Jobs and job growth are going to be here. Secondly, it will expedite our product development efforts," Wouters assured. Visit
www.cirrusaircraft.com
.
Signs Of Recovery
At GAMA's annual "State of the Industry" conference, Chairman John Rosanvallon, CEO of Dassault Falcon, reported that the global economic downturn continued to negatively impact general aviation manufacturers in 2010, but that signs of a recovery have started to emerge. "Our industry experienced another challenging year that required many manufacturers to continue to make careful decisions about production schedules, employment and product development," said Rosanvallon. "However, despite the pain caused by the downturn, we are now seeing strong GDP growth on a global level, and corporate profits are up. This bodes well for general aviation's future, as shipments have traditionally lagged an economic recovery by one to two years." The piston-airplane segment shipped a total of 889 units in 2010, compared to 963 units in 2009, a 7.7% decline. The turboprop sector was down 17.7%, shipping 363 units in 2010, compared to 441 units the previous year. The business-jet sector declined 12.3% with 763 airplanes shipped, compared to 870 airplanes in 2009. Visit
www.gama.aero
.
Sterling Raven
Sterling Flight Training, based at Craig Airport in Jacksonville, Fla., has taken delivery of a new Robinson R44 Raven II helicopter. The R44 will be used for primary and advanced helicopter flight training, including instrument training. The school is offering half-hour introductory helicopter lessons for $195. Visit
www.sterlingflight.com
Lightspeed Pledge
Oregon-based Lightspeed Aviation was the first to sponsor the upcoming Pilot Training Reform Symposium, being held in Atlanta, Ga., by the Society of Aviation and Flight Educators. As a Diamond Level sponsor, Lightspeed pledged more than $10,000 to help offset the operating costs associated with the symposium. The invitation-only event is expected to draw up to 300 top aviation professionals who will work together to secure a healthy future for general aviation. Visit
www.lightspeedaviationfoundation.org
,
www.pilottrainingreform.org
and
www.safepilots.org
.
Caravans At Van Bortel
Cessna has expanded its affiliation with Van Bortel Aircraft, a longtime Cessna sales and service representative, to include sales of its Caravan line of turboprop aircraft. Van Bortel Aircraft has sold Cessna aircraft exclusively since its founding by Howard G. Van Bortel in 1985, and became formally affiliated with Cessna in 1990. Based at Arlington Municipal Airport (GKY) in Arlington, Texas, the company will serve as a Caravan Authorized Sales Representative for Texas and New Mexico. Visit
www.vanbortel.com
.
Page 1 of 3