Tuesday, March 27, 2012
May 2012 Readback
New Rotax Engine Improves Fuel Efficiency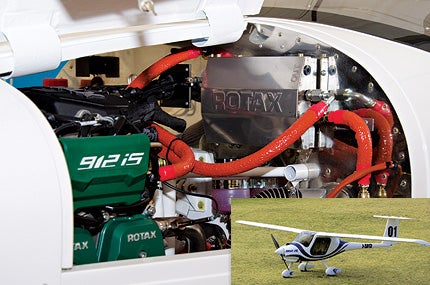 An evolution of the Rotax 912 engine, the new Rotax 912 iS engine from BRP utilizes a modern fuel-injection system and digital engine control unit to ensure optimal fuel and air mixture at any altitude, lower operating costs and CO2 emission reduction. Like its predecessor, the new engine has a TBO of 2,000 hours. "BRP maintained its commitment to innovation through the recent economic crisis to continue developing high-performance and more fuel-efficient engines," said CEO José Boisjoli. "The Rotax 912 iS engine is the result of this engagement and our commitment to always exceed consumers' expectations.'' Gerd Ohrnberger, general manager, Powertrain division, added: "The development of a four-stroke, four-cylinder 100 hp aircraft engine with a redundant electronic fuel-injection system is a first in the industry; it makes it ideal for all kinds of light-sport aircraft, generating increased opportunities in the general aviation market." Manufacturers that have the 912 iS installed in include Flight Design, Tecnam, FD Composite, Breezer, FK- Lightplanes, Aerospool, Evektor and Pipistrel. After testing the new engine in the Pipistrel, which showed a fuel burn of just 3.95 gph, Tine Tomazic, engineer and pilot for Pipistrel Aircraft, said: "The injection system ensures the best fuel and air mixture on each cylinder at every possible altitude while delivering the same 100 hp as the Rotax 912 ULS engine, therefore producing fewer emissions. I would say that the Rotax 912iS engine is a powerful, economic and more fuel-efficient engine." Rotax has sold more than 170,000 aircraft engines in almost 40 years, and has 20 authorized distributors and a network of more than 200 sales and repair centers worldwide. Mass production of the Rotax 912 iS engines will start in May 2012. Visit
www.rotax.com
and
www.brp.com
.
SmartDeck Selected By Evektor
Evektor has selected the Esterline CMC SmartDeck integrated avionics suite for the multipurpose EV-55 Outback aircraft, a twin-engine turboprop that has a max cruise speed of 220 knots and can transport nine passengers or cargo up to 4,020 pounds. Evektor has designed it to replace older utility piston aircraft and as a more reliable alternative to single-engine turboprop aircraft. Jaroslav Ružicka, Evektor's Chairman of the Board, said: "This user-friendly and well-organized flight deck will give pilots exceptional situational awareness to make flying safer and easier. The advanced design and scalability of the SmartDeck cockpit will support the additional features required for our special-mission versions of the EV-55." A prototype of the new Evektor EV-55 turboprop made its first takeoff from Kunovice airport in the Czech Republic on June 24, 2011. Evektor will offer the aircraft in several versions: passenger transport, cargo transport, a combined version with space for cargo in the cabin-forward section and passenger seating in the rear, as well as search and rescue and surveillance versions for military applications. Visit
www.esterline.com/avionicssystems
and
www.evektor.com
.
EASA Approval For Avidyne Autopilot
Avidyne has received European Aviation Safety Agency (EASA) approval of its DFC90 and DFC100 digital autopilots for installation in European-registered Piper PA-46 Matrix and Mirage aircraft. Avidyne also received EASA approval for the new DFC90 Release 2 software upgrade, which adds Envelope Alerting (EA) capability, and also allows the option of wiring the aircraft for dynamic Envelope Protection (EP) with Flap Sensing for new installations and for existing DFC90-equipped Cirrus SR20 and SR22 owners in Europe. Owners of European-registered Cirrus SR20/SR22 and Piper PA-46 can now upgrade to the DFC90 if they have the original Entegra suite, or they can add the DFC100 if they've already upgraded to the Avidyne Entegra Release 9 flight deck. All European-registered Cirrus SR20/22 aircraft that already have the DFC90 autopilot are now able to be upgraded to DFC90 Release 2 software. Visit
www.avidyne.com
.
Avidyne Winner
Avidyne announced that Stephen Gansky of Newtown, Penn., is the grand prize winner of Avidyne's "FlySafe Giveaway Extravaganza 2" promotion. Mr. Gansky, who owns a Piper PA28 Archer, will be receiving a new IFD540 GPS/NAV/COM, once certified. The IFD540 is valued at $16,995. "I can't believe it! I never win anything; this is great," said Mr. Gansky, when he was informed that he was randomly chosen from all the Extravaganza contest entrants acquired at trade shows and via the Avidyne website since August 2011. "I was very impressed with the IFD540 when I saw it in Hartford last fall. It will certainly fit nicely in my panel where my 530 is today." Aircraft owners can sign up for Avidyne's "Extravaganza 3" giveaway, which will also have a new Avidyne IFD540 GPS/NAV/COM as the Grand Prize, at
www.avidyne.com/landing/extravaganza3.asp
.
Page 1 of 3