Sunday, May 1, 2005
May-June 2005 On The Radar

Final numbers for general aviation's 2004 financial year have been released by the General Aviation Manufacturers Association (GAMA), and the news is great. Piston singles sales hit a 20-year high. "Bonus depreciation, coupled with the continuing growth of the U.S. economy helped make 2004 a turning point for our industry," says GAMA chairman Jim Schuster. " />

Cirrus SR22-GTS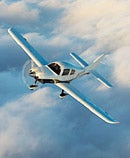 Lancair Columbia 350

Pilots Quentin Smith and Steve Brooks

Epic LT

Comp Air Jet
And one indication that Cirrus founders Dale and Alan Klapmeier may be right on their assertion that Cirrus represents a fundamental shift in personal transportation comes from, of all places, Bismarck, N.D. The city is working with a $1.5 million grant to develop a regional air service to communities that are overlooked by commercial airlines. The plan, which is expected to begin trial runs before the year's end, would allow passengers to pick their destinations, then fly there in a variety of aircraft, including a fleet of five Cirrus planes. For more info, call Cirrus Design at (218) 727-2737 or log on to
www.cirrusdesign.com
.
Lancair continues ramping up production of its composite Columbia 350 and 400-series airplanes. The company is adding 130 new workers to its current staff of 400 to tackle the growing backlog of orders. Expansion of the physical factory is on the board as well. The Bend, Ore., manufacturer expects to deliver almost 200 aircraft this year and more in 2006.
With the certification of the Columbia 400 all the way to FL250 behind them now, Lancair is hard at work on a new aircraft. Skunk Works' secrecy has the project under wraps. Of course, some expect the company to announce retractable gear while others suggest a whole new design, possibly a six-seat, single-engine turbine. Lancair isn't telling anyone until fall of this year. Contact Lancair Aircraft Company at (541) 318-1144 or log on to
www.lancair.com
.
But two British pilots, Quentin Smith and Steve Brooks, are happy to tell everyone about what they're flying and where. On January 17 of this year, the two landed their Robinson R44 Raven II helicopter at the South Pole. It seemed like the only thing to do, as the two had landed at the North Pole two and a half years earlier.
Smith and Brooks flew to within five miles of the pole, but had to set the helicopter down to wait out the weather. They built a small igloo around the Robinson's engine compartment and heated it with an avgas cooking stove. When the weather finally cleared, the Raven's engine started immediately, and the pair completed their record-setting flight. Call Robinson Helicopter Company at (310) 539-0508 or log on to
www.robinsonheli.com
Page 3 of 4