Sunday, May 1, 2005
May-June 2005 On The Radar

Final numbers for general aviation's 2004 financial year have been released by the General Aviation Manufacturers Association (GAMA), and the news is great. Piston singles sales hit a 20-year high. "Bonus depreciation, coupled with the continuing growth of the U.S. economy helped make 2004 a turning point for our industry," says GAMA chairman Jim Schuster. " />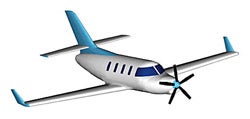 Shortcuts To Dream Machines
Aircraft Investor Resources will offer the Epic LT, a new six-seat, single-engine turbine for sale in the experimental category, leapfrogging the time and expense of certification. There's nothing experimental about the powerplant, however. The 350-knot cruise is provided courtesy of a Pratt & Whitney PT6. Front-seaters enjoy state-of-the-art avionics, including synthetic vision, while back-seaters roam the cabin-class interior, complete with custom cabinetry and multimedia options. Aircraft Investors Resources, also announced plans to make a twin-engine pure jet. For more information, contact Aircraft Investors Resources at (702) 682-2389 or log on to
www.epicaircraft.com
.
Another shortcut to your dream machine may just come from Aerocomp, in Merrit Island, Fla. The kit maker is under way to develop the Comp Air 12 turbine, an up-to-12-passenger single with a Lycoming turboprop out front. The Comp Air 12 is expected to deliver about 275 knots with a range of about 2,800 miles. And yes, this is a kitplane.
If that one doesn't get you, how about the new Comp Air Jet? The Lycoming-powered, single-engine, all-composite jet already is in flight testing, and a painted, upholstered version will doubtlessly be on the air-show circuit this year. Of course, the Comp Air Jet comes in more colors and interior options than any other jet on the market. Why? Because you build this airplane yourself, too. For more info, contact Aerocomp Inc. at (321) 453-6641 or log on to
http://aerocompinc.com
.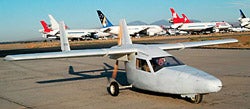 As long as you're building, you might as well pay attention to a new kit in development in California (naturally). The Volante Flying Car already is coming and going from the runways at Mojave, Calif., flight testing to become the perfect blend of both automobile and airplane. Powered by a 150 hp Lycoming 0-320, the it's-a-car/it's-a-plane cruises at 150 mph in the air and normal highway speeds on the ground, towing the wings behind it. No word yet whether or not it will have LoJack. For more info, call Volante Aircraft Company at (714) 545-0125 or log on to
www.volanteaircraft.com
.
Page 4 of 4