Monday, May 1, 2006
May-June 2006 On The Radar
In 2005, the general aviation industry hit $15.1 billion in billings, an all-time high and a 27.2% increase over 2004. The good news came from the General Aviation Manufacturers Association (GAMA) at their annual Industry Review & 2006 Market Outlook Briefing. GAMA (
www.gama.aero
) figures put worldwide shipments of general aviation airplanes at 3,580 units for 2005, up 20.8% from the previous year's total of 2,963 units. " />

C90GT King Air

Columbia 350 and 400
A New King
Raytheon (
www.hawkerbeechcraft.com
) announced FAA certification of its new C90GT, the latest evolution of King Air. The new and improved turbine twin has increased performance in all phases of flight, including a 26-knot increase in max cruise. Pratt & Whitney PT6A-135 will take the C90GT to its certified ceiling of 30,000 feet in just 22 minutes. King Airs have enjoyed a 40-year production run. The 6,000th King Air rolled off the production line in December 2004.
Flip Your Bird
For those who want to buy a new Columbia 350 or 400, help is on the way. Columbia Aircraft's new program, "Flip the Bird 1, 2, 3," facilitates the purchase of a new Columbia 350 or 400 by helping aircraft owners sell their current plane. Owners planning to make such an upgrade will be guided by aviation experts on finance, insurance, tax and brokerage matters. They'll also receive an aircraft detailing kit, "For Sale" signs and three months of classified advertising in
Trade-A-Plane
at no cost. For more information, contact Columbia Aircraft at (888) 526-2247 or
www.flycolumbia.com
.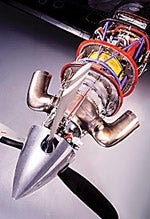 More Cheyenne Upgrades
T-G Aviation has announced that its eleventh Super Cheyenne conversion is now in the air. Kevin Klein of T-G Aviation noted "We now have more than 10,200 hours of total flying time."
The Super Cheyenne conversion replaces the existing Cheyenne I, IA, II or IIXL stock engines with new Pratt & Whitney PT6A-135A turbines that are factory rated for 750 SHP. Also included in the conversion are specially designed Hartzell three-blade props that turn at 1,900 rpm, down from 2,100 rpm for a quieter ride.
Converted Cheyennes see improved performance in many areas, but most notably in rate of climb, high-speed cruise and fuel economy. T-G Aviation says that speeds as high as 300 KTAS have been recorded, with more normal cruise falling into the 275 to 280 KTAS range. Fuel burn averages around 72 gph. The Super Cheyenne reaches FL270 in 14 to 17 minutes.
The firewall-forward conversion is done at the T-G Aviation facility in Mount Hope, Ontario, Canada. For more, log on to their Website at
www.tgaviation.com
or call (905) 679-6554.
Page 3 of 4