Monday, May 1, 2006
May-June 2006 On The Radar
In 2005, the general aviation industry hit $15.1 billion in billings, an all-time high and a 27.2% increase over 2004. The good news came from the General Aviation Manufacturers Association (GAMA) at their annual Industry Review & 2006 Market Outlook Briefing. GAMA (
www.gama.aero
) figures put worldwide shipments of general aviation airplanes at 3,580 units for 2005, up 20.8% from the previous year's total of 2,963 units. " />

Follow Me
Ever wished you could set your luggage down and have it follow you? If so, you have something in common with Peter Yeadon, a professor at Rhode Island School of Design. At the moment, the world's smartest suitcase is still a prototype, but if Yeadon gets his way, one day we'll have hands-free luggage that tails us home. See more at www.yeadon.net.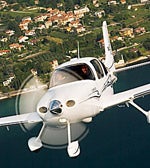 Cirrus To Get Even Faster
Thanks to Tornado Alley Turbo, Inc., Cirrus owners may soon be able to reach their destinations even quicker than they already can. Tornado Alley is developing a turbonormalizer for the SR22 that will allow it to reach 210 knots or possibly more. President Timothy Roehl hopes to obtain FAA certification later this year. The system is anticipated to be priced between $45,000 and $50,000 installed. Check for updates at www.taturbo.com.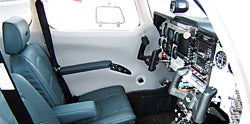 More Horsepower For Mooney
Owners of Mooney M20R and M20S aircraft can now upgrade their Teledyne Continental IO-550-G engines to 310 horsepower. The STC for modification, which includes the installation of a Hartzell three-bladed propeller, was obtained by Midwest M20 Mooney in Flora, Ill. This shortens takeoff distance for the M20S by up to 55% and increases its rate of climb by 300 fpm. Furthermore, the aircraft's takeoff weight is increased to 3,368 pounds, the same as that of the M20R. The upgrade costs $25,000 for aircraft with two-bladed propellers and $17,500 for models that already have three-bladed Hartzell propellers.

Mooney is also offering interior refurbishments for M20J and M20K models. Elements of the updated look include one-piece fiberglass panels covered with Ultraleather; an automatic timer-controlled light in the baggage area; a quieter cabin; and new glare shields, carpets and kick panels. The interior kits are installed at the Factory Service Center. Contact Mooney for more information at (800) 456-3033 or www.mooney.com.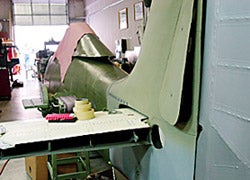 Focke-Wulf Fw 190
The White 1 Foundation in Kissimmee, Fla., is restoring a genuine Focke-Wulf Fw 190 F-8 in hopes of returning it to the air. Presently, the aircraft is undergoing complete restoration to airworthy condition with the correct BMW 801 engine.

Focke-Wulf FW 190 F8, W Nr 931862, has a rich history including action while serving with JG 5 in Norway. The aircraft was last flown during the famous Battle of Fordefjord on February 9, 1945. It came to rest on a snow-covered mountain after its pilot was forced to bail out. The aircraft has now been moved to Florida.

Pilot Journal readers have a unique opportunity to participate in the restoration process. For five days, July 17 to 21, participants can get hands-on instruction from the master craftsmen restoring this classic warbird. Fans can also log on to the Website and bid on a chance to sit in the completed project and fire up the one-of-a-kind engine that hasn't been heard since the end of WWII. For details, log on to www.white1foundation.org or call (727) 365-1713.
Page 4 of 4