Tuesday, May 1, 2007
May-June 2007 On The Radar

The prototype Next Generation PC-12, which is slated for certification at the end of 2007, has completed its first transatlantic journey from Switzerland. On its way to the United States, it stopped in Iqaluit, Canada, for a series of cold-weather trials before continuing on to Pilatus' North American headquarters in Broomfield, Colo." />
"The Alliant system transforms a proven and reliable airframe with a high-performance glass cockpit," said Mark Sandeen, Avidyne's VP of sales and marketing. "The Alliant King Air installation adds large displays, dual-redundant PFDs, enhanced safety and improved reliability. And it boosts aircraft performance and utility with a significant increase in useful load."
Increased safety was paramount in the customer's decision to purchase the Alliant package. "We fly our families in this airplane so we're very concerned about safety," said the new owner. "The Alliant system gives us a safer airplane. There's greater redundancy with dual solid-state gyro and air-data systems, reduced pilot workload and greater situational awareness because everything is right there on the panel for you to see."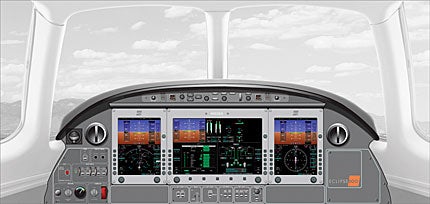 Eclipse Launches Avio NG
Eclipse has partnered with leading avionics suppliers Innovative Solutions & Support (ISS), Chelton Flight Systems, Garmin International, Honeywell and PS Engineering to launch a new and improved version of the Eclipse 500's Avio Total Aircraft Integration system. Dubbed Avio NG, the system provides Total Aircraft Integration through integral, redundant computer systems and advanced data- and power-distribution systems. Avio NG integrates the entire aircraft into one system, including avionics, engine operation, fuel system, flaps, landing gear, cabin pressure and temperature. It significantly reduces pilot workload by simplifying tasks, generating useful information, managing systems and assisting with troubleshooting. Avio NG also delivers significant enhancements providing next-generation digital avionics with demonstrated airline reliability. Eclipse will retrofit all Eclipse 500 aircraft with Avio NG by the end of 2007, ensuring a homogeneous Eclipse 500 fleet. Check out the Avio NG at
www.eclipseaviation.com
.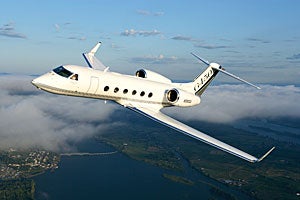 Green Jet Charter Company To Offset CO2 Emissions
Every time a private jet takes flight, CO2 is produced as a result. But now, thanks to a new partnership with Carbonfund.org, Arise Air is taking responsibility for its CO2. Through this partnership, Arise Air will immediately begin offsetting all the CO2 that's produced by its flights.
"We continually receive requests from clients who are equally concerned about the environment as we are," said Bryan Ellis, Arise Air's president. "Working with
Carbonfund.org
made it easy and affordable for us to take control of our climate impact." With Carbonfund.org's assistance, the CO2 emitted by Arise Air's jets will be offset by supporting reforestation and renewable-energy projects, such as mangrove restoration on the coast of India and the High Winds wind farm in Solano County, Calif. Log on to
www.ariseair.com
to learn more.
Page 3 of 5