Tuesday, May 1, 2007
May-June 2007 On The Radar

The prototype Next Generation PC-12, which is slated for certification at the end of 2007, has completed its first transatlantic journey from Switzerland. On its way to the United States, it stopped in Iqaluit, Canada, for a series of cold-weather trials before continuing on to Pilatus' North American headquarters in Broomfield, Colo." />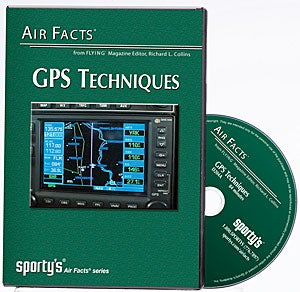 Sporty's GPS Techniques Updated
Sporty's has updated and expanded their two most popular Air Facts programs,
GPS En Route
and
GPS Approaches
. Pilots who use these in-depth programs will learn to operate their GPS units well beyond "Direct-to."
GPS En Route
shows pilots how to get the most out of their GPS, no matter the model. The DVD emphasizes flight-plan functions and shows several easy ways this can make flying safer and more efficient when dealing with busy terminal areas, weather, TFRs and special-use airspace.
The program also demonstrates how unapproved GPS units, even handhelds, can be useful when flying IFR. The DVD introduces T-routes, domestic low-altitude RNAV routes, and includes a demonstration of VNAV, a vertical navigation tool found on many handhelds and panel mounts.
Although
GPS En Route
isn't intended as a tutorial on any specific model, this DVD features the most popular GPS receivers today, including the Garmin G1000, 430, 530, 396 and 496 and the King KLN-94.
GPS Approaches
includes a new section on WAAS approaches. Richard Collins demonstrates how to fly these new procedures, which offer ILS-like vertical guidance and lower minimums to hundreds of airports.
Sporty's has filled these programs with a unique combination of in-cockpit footage and computer graphics to illustrate the differences between LNAV/VNAV, LPV and ILS, and these programs employ visual aids to show what to watch for on the new WAAS approach charts.
GPS Approaches
also discusses the various approach modes, how and when to use automatic waypoint selection, potential traps on the GPS missed approach and more.
The
GPS Techniques
set includes both
GPS En Route
and
GPS Approaches
, and is available for $25.00. Order through
www.sportys.com
or (800) SPORTYS. All Air Facts programs may be downloaded for $9.95 (get a 25% discount if you order four or more) through
www.sportys.com/download
.
Page 4 of 5