Monday, November 1, 2004
Nov-Dec 2004 On The Radar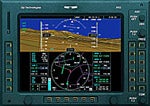 Glass Half Empty, Half Full
Neither Garmin nor Avidyne has yet to address what the industry refers to as "legacy aircraft." In plain English, that means all the airplanes that are already out there. The bottom line: Currently, you can't yet add a Garmin G1000 or Avidyne FlightMax Entegra glass panel to any of the existing fleet of used aircraft. While both companies have made a lot of noise about navigating the federal labyrinth of paperwork to accomplish retrofitting older aircraft, several other companies have stepped up to the plate.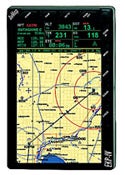 Sagem Avionics (
www.sagemavionics.com
) of Puyallup, Wash., has already certified a large, full-sized multi-function display (MFD) that pivots into either a portrait or landscape configuration to match the available real estate of your existing panel. This two-inch-deep Integrated Cockpit Display System reads engine performance, navigation and communication, as well as overlaying NEXRAD weather detail in real time. A second panel has a primary flight display (PFD), attitude, airspeed, direction, horizontal situation as well as nav data from GPS, VOR, NDB or ILS. Certification for the PFD is anticipated before year's end. Meanwhile, a second company, called Op Technologies (
www.optechnologies.com
), expects certification of a single, do-it-all Pegasus Integrated Avionics System by the first quarter of 2005. It combines PFD and MFD responsibilities into a single display via a split screen. The system also includes a sophisticated flight management system and can be combined with your existing radio stack.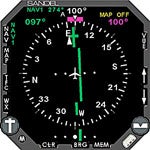 Sandel also has upgraded its electric HSI, the SN3500, to include a compass, map, flight plan and RMI, as well as traffic, terrain and weather. This improvement over its successful 3-ATI-sized SN3500 incorporates nav functions and support for Mode-S transponder traffic input and WX-500 Stormscope. The SN3500T unit also adds FAA-certified Class C TAWS warnings, along with relative and topography terrain mapping. WSI will provide weather data. Sandel is expecting to begin installing the new units by the end of 2004. For more information, call Sandel Avionics at (760) 727-4900 or log on to
www.sandel.com
.
Add more state-of-the-art technology to your own cockpit with the all-new EKP-IV Navigator from AvMap. It's a moving map and a portable GPS display, now capable of both profile as well as landscape views. In addition, this new unit has made major strides in chart data storage by converting to a 128 megabyte compact flash card for memory. Its other improvements also allow the EKP-IV to read NT+ marine cartography, and TeleAtlas Street and Point of Interest software. For more information, call AvMap/Navigation at (800) 363-2627 or log on to
www.avmapnavigation.com
.
Page 3 of 4