Monday, November 1, 2004
Nov-Dec 2004 On The Radar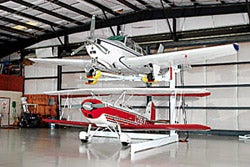 Strong-Armed Hangar Space
The prices of renting a hangar seem to be going nowhere but up. Pilots have little or no negotiating power because many airports have a waiting list. Fortunately, there's an alternative to the high price and shortage of hangars while doubling the usefulness of existing space: It's called high-density hangaring, or HDH.
What makes it possible is a device developed by ARM Aerospace of Tucson, Ariz., makers of the Aero-Lift. The lifts allow you to add a second airplane without having to rent a second hangar. The device can easily almost double the amount of usable space in your hangar. For more information, contact ARM Aerospace at (520) 886-7329 or log on to
www.armaerospace.com
.

Weather Rain Or Shine
Got a favorite runway that has no weather-reporting service? WeatherHawk makes a wireless weather system that you can access day or night via UHF/VHF radio or even your cell phone. Install a WeatherHawk weather station, then add the new WeatherTalk module. Pilots approaching a field can call the station via their cell phone or merely key the microphone to get a voice-synthesized and complete weather report, including winds, surface temps, relative humidity and barometric pressure. To find out more, call WeatherHawk toll-free at (866) 670-5982 or log on to
www.weatherhawk.com
.

From Russia, With Love
For those of you who have read "The Bears Of Kamchatka" in the July/August 2004 issue, you'll be pleased to know that Charlie Russell was back in his cabin in the Russian wilderness this past summer. He's now raising five new cubs!
Page 4 of 4