Tuesday, November 1, 2005
Nov-Dec 2005 On The Radar

There's excitement in the air in both Albuquerque, N.M., and Wichita, Kan. Final certification for the Eclipse 500 and the Cessna Mustang is almost in sight, and soon, all of us will get the first hints of just how deep the water is for the very light jet (VLJ) aircraft market. At the recent EAA AirVenture in Oshkosh, Wis., Eclipse flaunted two of its conforming prototypes, and Cessna debuted its Mustang, direct from Wichita, with CEO Jack Pelton at the controls." />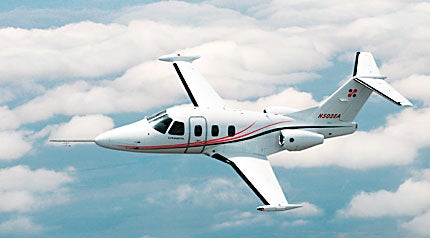 The Big Finish for 2005
There's excitement in the air in both Albuquerque, N.M., and Wichita, Kan. Final certification for the Eclipse 500 and the Cessna Mustang is almost in sight, and soon, all of us will get the first hints of just how deep the water is for the very light jet (VLJ) aircraft market. At the recent EAA AirVenture in Oshkosh, Wis., Eclipse flaunted two of its conforming prototypes, and Cessna debuted its Mustang, direct from Wichita, with CEO Jack Pelton at the controls. Both companies will close out this year with a hefty backlog of orders and expect to begin aircraft deliveries in 2006. For more information, contact Eclipse at (505) 245-7555 or log on to
www.eclipseaviation.com
, or Cessna at (800) 4-CESSNA or visit
www.cessna.com
.

Cessna Mustang

Adam A700

HondaJet
No matter which of the VLJs crosses the finish line first, one thing is certain: They won't be alone for long. Adam Aircraft president Joe Walker says, "Go out five years from now, and what's important is the fleet size, not the exact month the airplane first came to market." His company is hard at work on the Adam A700, another contender for the VLJ category that expects a 2006 certification. For more information, call Adam at (866) ADAM-AIR or log on to
www.adamaircraft.com
.
And the elusive HondaJet came out of hiding for a guest appearance at Oshkosh in August. The aluminum-wing six-seater has long been in low-key flight testing, with Honda denying any intentions to market the aircraft. The company maintains that the HondaJet is merely a test bed for a cooperative engine-development venture between the Japanese car maker and General Electric. Rival Japanese auto giant Toyota built and tested a small four-place single (powered by a derivative of a Lexus V8), but both car makers are mum about entering the aircraft sales business. For more info, contact Honda Aircraft Engines at
http://world.honda.cm/ AircraftEngines
.
Another VLJ is lining up for flight testing. Excel-Jet's single-engine Sport-Jet is planned to use a Williams FJ33-4A for 1,500 pounds of thrust. Projected performance numbers give the Sport-Jet a 2,500-fpm rate of climb and a max cruise of 375 knots at its ceiling of 25,000 feet. The aircraft is the newest design from Bob Bornhofen, innovator of the experimental category Maverick TwinJet. For more information, contact Excel-Jet at (719) 495-7221 or log on to
www.sport-jet.com
.

The Sino Swearingen Aircraft Corporation's SJ30-2 twin-engine bizjet is nearing final certification. After a number of delays and setbacks, the San Antonio, Texas, company received the FAA's Type Inspection Authorization (TIA). The TIA is a major milestone that precedes final certification testing. The long-range, single-pilot SJ30-2 jet is expected to make .83 Mach (560 mph) and maintain a sea-level cabin all the way to FL410. For more information, contact Sino Swearingen Aircraft Corporation at (888) JET-SJ30 or log on to
www.sj30jet.com
.
Page 1 of 4