Tuesday, November 1, 2005
Nov-Dec 2005 On The Radar

There's excitement in the air in both Albuquerque, N.M., and Wichita, Kan. Final certification for the Eclipse 500 and the Cessna Mustang is almost in sight, and soon, all of us will get the first hints of just how deep the water is for the very light jet (VLJ) aircraft market. At the recent EAA AirVenture in Oshkosh, Wis., Eclipse flaunted two of its conforming prototypes, and Cessna debuted its Mustang, direct from Wichita, with CEO Jack Pelton at the controls." />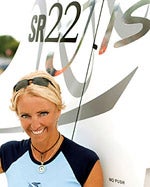 Cirrus Adds TAWS And PWAS
Cirrus Design announced the terrain awareness and warning system as a standard feature in its new Avidyne Entegra-equipped SR20s and SR22s. The system uses a GPS database to provide both a visual and aural alarm of danger for flights anywhere in the world. TAWS is a major deterrent against controlled flight into terrain accidents, a leading cause of in-flight mishaps. Retrofitting is available for older Cirrus models.
The Duluth, Minn., manufacturer also recently celebrated the completion of its 2,000th aircraft. At Oshkosh this year, Dale Klapmeier announced that milestone aircraft will be flown by air-show legend Patty Wagstaff.
"I'm really excited about my new relationship with Cirrus," says Wagstaff. "After my first flight in an SR22, I realized that this company is committed to designing airplanes for a new generation of pilots."
Her professional entity, Patty Wagstaff Air Shows, will use the aircraft to travel the country back and forth from engagements, not in aerobatic competition. Wagstaff is a three-time U.S. National Aerobatic Champion and six-time U.S. Aerobatic Team member. Her aerobatic Extra 260 now hangs in the Smithsonian. The newer Extra 300 she currently flies will feature the Cirrus name on top and bottom. For more, contact Cirrus at (218) 727-2737 or log on to
www.cirrusdesign.com
.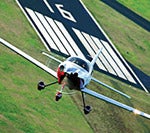 Lancair By Any Other Name
Citing confusion over the Lancair Kit Planes and the Lancair Certified Aircraft divisions, the latter half of the Bend, Ore., company will now be known as Columbia Aircraft Manufacturing (CAM). The Columbia 350 and turbocharged 400, one of the fastest production pistons in the world, will continue down the same production line, but now roll out from the newly named CAM division.
New Columbias will soon feature a de-ice system called E-Vade. The $25,000 option should be shipping before the end of the year, and retrofits are in the works for older Columbias. CAM expects to build 175 airplanes in 2005 and 230 next year. A new 18-wheel truck is now touring airports across the country to promote the new high-performance composite aircraft. For more, call CAM at (541) 318-1144 or log on to the company's Website at
www.flycolumbia.com
.
Page 3 of 4