Tuesday, November 1, 2005
Nov-Dec 2005 On The Radar

There's excitement in the air in both Albuquerque, N.M., and Wichita, Kan. Final certification for the Eclipse 500 and the Cessna Mustang is almost in sight, and soon, all of us will get the first hints of just how deep the water is for the very light jet (VLJ) aircraft market. At the recent EAA AirVenture in Oshkosh, Wis., Eclipse flaunted two of its conforming prototypes, and Cessna debuted its Mustang, direct from Wichita, with CEO Jack Pelton at the controls." />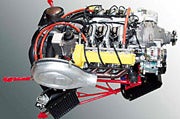 Damned Big Rotax
Two years ago, aerospace giant Bomb ardier announced a V-6 FADEC-controlled, water-cooled engine, but soon afterward, the jungle drums went quiet. Now, the engine is alive and well, being marketed by a new company called Aircraft Engine Services. The new engine, actually engines—a 220 hp and a 300 hp model—are manufactured by Rotax, wholly owned by Bombardier. Contact Aircraft Engine Services at (321) 268-3718 or log on to
www.vaircraft engine.com
.
Never Too Late
Three NASA test pilots who flew the famed X-15 rocket plane were finally awarded their astronaut wings. The X-15's nine-year test programs saw a number of flights above 328,000 feet, the internationally accepted boundary for space. The X-15 Air Force pilots received astronaut wings, but the NASA pilots didn't. The oversight was rectified at the NASA Dryden ceremony last August.
Another NASA recognition arrived. Guinness World Records now lists NASA's experimental X-43A scramjet as holding the new world speed record. It reached Mach 9.6 on a test flight over the Pacific. Call NASA's Dryden Flight Research Center at (661) 276-3449 or log on to
www.nasa.gov
.
Record High And Low
Meantime, Carter Aviation Technologies announced it has broken the Mu-1 barrier, an aerodynamic ratio of the forward speed of an aircraft to the tip speed of its rotor that was previously thought to be unbreakable. The unplanned record-breaking accomplishment took place during a test fight. The CarterCopter pushed through Mu-1 flight for 1.5 seconds, with initial data indicating that the airspeed was 170 mph and the rotor at 107 rpm—a Mu value of 1.02. If the company data is correct, this was the first time in history the Mu barrier has ever been broken.
Shortly after the milestone achievement, however, the nose pitched down and the CarterCopter began a left roll. Test pilots Larry Neal and Brad King were able to regain some pitch control before hitting trees. Both pilots were uninjured, but the one-of-a-kind helicopter was destroyed. Nevertheless, CarterCopter has posted data from the record-breaking flight on its Website. Contact Carter Aviation Technologies at This e-mail address is being protected from spambots. You need JavaScript enabled to view it or visit
www.cartercopters.com
.
Page 4 of 4