Wednesday, November 1, 2006
Nov-Dec 2006 On The Radar

Cessna received full FAA type certification for its Citation Mustang, making it the first official entrant into the highly anticipated very light jet market. "This is an immense achievement," said Cessna Chairman Jack Pelton, "marking another point in history when Cessna has led the aviation industry into new territory."" />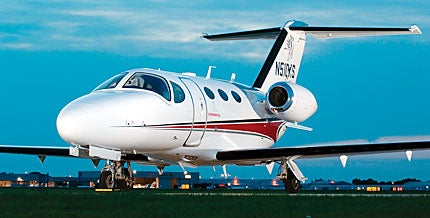 Cessna Mustang
Cessna received full FAA type certification for its Citation Mustang, making it the first official entrant into the highly anticipated very light jet market. "This is an immense achievement," said Cessna Chairman Jack Pelton, "marking another point in history when Cessna has led the aviation industry into new territory."
The jet was successfully tested to as many as five airframe lifetimes (just two are required), and met more than 2,220 other test requirements. The type certification includes single-pilot operation, day and night operations, VFR and IFR, and reduced vertical separation minimums. Approval for flight into known icing conditions, which isn't required for full type certification, is expected in the near future.
The six-place Mustang, powered by two Pratt & Whitney Canada PW615F engines, reaches up to 340 KTAS. The entry-level jet has a range of 1,150 nm and a service ceiling of 41,000 feet. It features Garmin G1000 avionics with two 10-inch PFD screens and one 15-inch MFD screen.
"The Citation Mustang will bring the benefits of jet ownership to more people than ever before," Pelton continued. "I think everyone will agree the final product our team created—in its polished fit, finish and performance—sets the highest standard for what this new generation of aircraft will be." With 250 orders already placed, production of the Mustang is sold out into 2009.
Eclipse isn't far behind, with a provisional type certification for the Eclipse 500. The company has already completed several jets that will be delivered to customers once final certification is achieved. Eclipse reports that an impressive 2,500 orders have been placed.
Also moving full steam ahead is Adam Aircraft, the recent recipient of investments totaling $93 million through funding led by venture capital firm DCM. "After looking at a number of emerging companies in the exciting VLJ space, we were particularly impressed with Adam's demonstrated ability to efficiently deploy capital," explained DCM General Partner Rob Theis, concluding that "Adam Aircraft will be at the forefront of this emerging market." Adam will put the capital towards certification of the Adam A700 jet and production of the already-certified Adam A500 piston twin.
Page 1 of 5